Supply Chain Services/ Contract Packaging
Are you feeling frustrated? Maybe you are more than a little perturbed? You're seeing an unacceptable amount of defective products and packages on your packaging line. I am willing to bet you are reading this article because you are looking for one of two things. One, ways in which you can reduce defective products on your packaging line. Or two, how to outsource your packaging line altogether. Many companies end up outsourcing their supply chain to a contract packaging company. They do this so that they can focus on their core capabilities. Are you looking for a contract packaging partner who can help you to reduce defects? Do you want someone to take all this supply chain management stuff off of your plate? Industrial Packaging may or may not be the right partner for you. We have been helping companies of all sizes, even Fortune 500 clients, reduce defects for a while now. And, we can help you to do the same if you're interested in exploring outsourcing versus trying to negate defects yourself. In this article, we will explain how a contract packaging partner can help you to reduce and prevent defects, which will result in happier customers.
The year 2020 has been like no other. Who knew that our world would be turned upside due to COVID-19? It has been surreal, with nightly news reports consisting of tallies of deaths worldwide, hospitals overflowing with patients, and even temporary morgues constructed to help manage the crisis. A worldwide pandemic.. it was almost unimaginable; a black swan. A black swan is a term popularized by Nassim Nicholas Taleb, a renowned essayist. According to Taleb, "a black swan is an unpredictable event that is beyond what is normally expected of a situation and has potentially severe consequences." Nurses and doctors quickly more noticeably became our heroes. People were asked to stay at home. Schools were closed, grocery store shelves emptied, and people began to hoard paper towels, sanitizers, and even toilet paper. Essential workers were asked to step up. Many businesses started to suffer. Would they be able to meet their customers' demands, would their supply chain stay intact, and would they be able to keep their employees safe? Would they be able to navigate through this rare and unforeseen event gracefully? In this article, we will use a story of our own experience here at Industrial Packaging in dealing with a black swan event in our facility and provide you with actionable items that will allow you to do the same, should you find yourself in a similar position.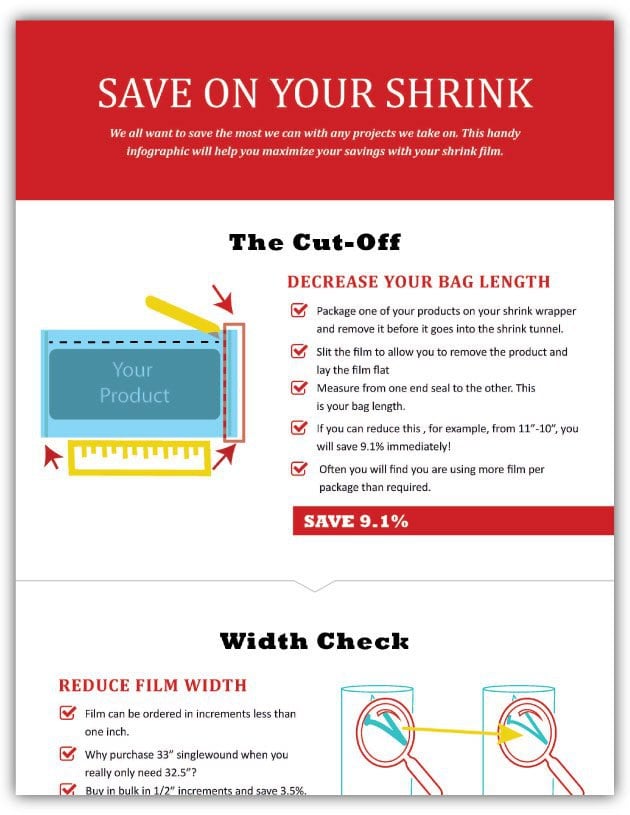 Shrink Film Cheat Sheet
We all want to save the most we can with any projects we take on. This handy infographic will help you maximize your savings with your shrink film. Get it for free when you subscribe to our blog.
Investment | Supply Chain Services/ Contract Packaging | The Business of Packaging
SQF, or Safe Quality Food, is a rigorous certification program in the safe handling of foods for manufacturers and distributors that is recognized all over the world. It's not new - it's been around for over 20 years, and is designed to be used in all sectors of the food industry including farming, manufacturing, packaging, warehousing and even food for our pets. This certification minimizes the incidence of unsafe food reaching the market place and involves training a SQF practitioner, possibly contracting a consultant, getting a program written, passing a desk audit and then, at last, passing the on-site certification audit. It takes a good amount of perseverance to get this certificate, but fear not! There are some great benefits to this effort. Here are 5 compelling reasons to implementing an SQF program: