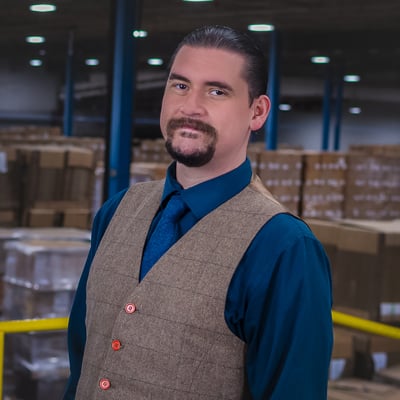 The Top 3 Benefits Of Printed Strapping: Applications And Uses
Perhaps you have been packaging your products with non-printed strapping for some time now. You are happy with the material's ability to contain your products correctly. But, you are looking for another way to brand your product's primary or secondary packaging as the containers do not have labeling.
Or, maybe you are new to strapping material altogether and are looking for a way to contain your products and brand them without implementing labeling and the required machinery for that application.
Then again, you could be looking for additional protective packaging to ensure that your products are not tampered with and then re-strapped.
Regardless of your reasons for looking into printed strapping, you are curious to determine if printed strapping materials are the right solution for your unique packaging applications.
You have been searching for information about this specialized packaging material. And, you want to learn about the benefits it has to offer your packaging line.
As a multi-generational packaging company, Industrial Packaging has been consulting thousands of businesses just like yours on the proper strapping solution for their products. And, we can do the same for you.
This article will walk you through the top three benefits of printed strapping material. With the information in this article, you will be able to decide if printed strapping is the appropriate packaging solution for your products.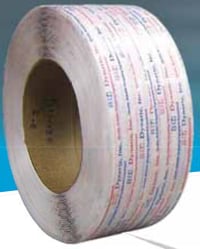 What Is Printed Strapping?
Like non-printed strapping, printed strapping is a thin, rope-like packaging material that comes wound onto a core. Strapping is generally made from polypropylene, polyester, or steel.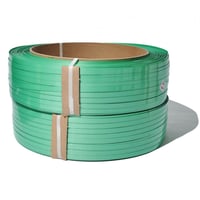 Strapping materials are mainly utilized for product bundling and palletizing products for shipping and transportation. The strapping is wrapped around the product to be contained and tightened with either a hand strapper (also known as a tensioner) or a strapping machine.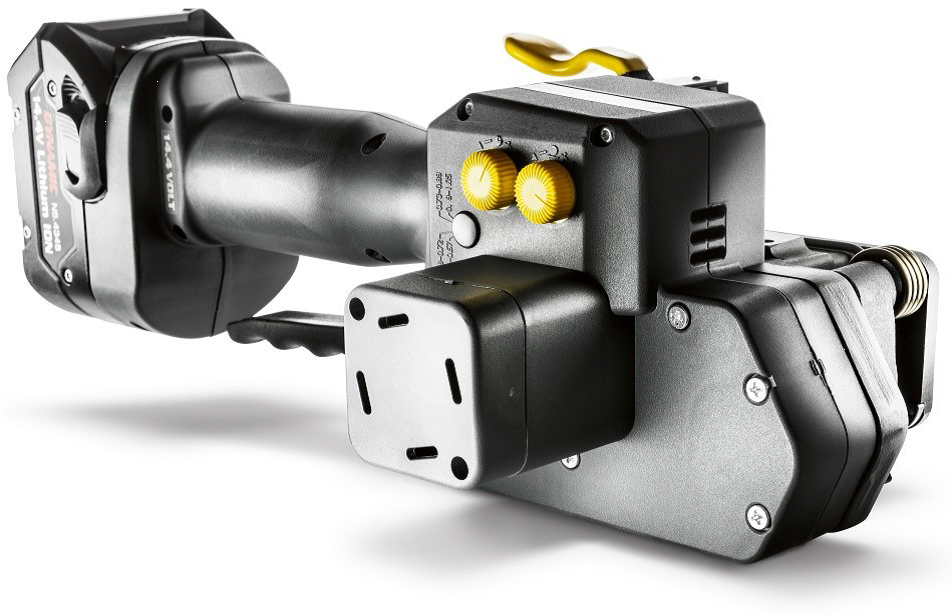 What Are The Benefits Of Printed Strapping?
Whether you are looking to tightly contain your products or for a unique way to brand your containers, printed strapping may or may not be the appropriate packaging material for you.
In the section below, we will review the top 3 benefits of printed strapping material. With this information, you can decide if printed strapping makes sense for your product packaging needs.
---
Want to learn more about protective packaging materials?
---
Benefit 1: Protective Packaging
When thinking about protective packaging, strapping may not be the first packaging material that comes to mind. And, with traditional, non-printed strapping, that is fair.
However, printed strapping can act as a protective packaging material that helps to protect people, products, and brands throughout your supply chain.
How so?
Custom printed strapping enhances product security and protection as it is easy to indicate if your printed strapping has been tampered with and re-strapped by a third party.
If your strapped products show up with regular strapping, this indicates that your original printed strapping has been removed. In this case, you know the products are not safe to send to market.
Benefit 2: Enhanced Branding Capabilities
Some products negate the use of external packaging (for example, corrugated boxes) such as compressed bundles. In this case, it may not be possible to mark the product.
But, with printed strapping materials, you can brand your product with your company's name, tag line, and other related information.
And, even if your strapped containers do feature graphics and other aesthetics, printed strapping gives you another way to make your parcels stand out.

Benefit 3: Product Information
Another way that printed strapping can be helpful for packages excluding (or including) external packaging is via printed information on the strapping itself.
This information may include handling instructions, warnings, description of contents, and other related data that will make handling, transporting, and opening the package easier for the end-user.
Is Printed Strapping Right For Your Products?
To find out if printed strapping is a suitable packaging solution for your product packaging requirements, you will have to answer a few questions first.
Do your products negate the use of external packaging?

- If you answered yes, then printed strapping would be a good packaging material for you.
Do your products require additional containment other than their current primary and secondary packaging?

- If you answered no, printed strapping is not for you.
Are you looking to enhance the protective packaging of your products?

- If your answer is yes, printed strapping is a good packaging solution for you.
Are you looking for alternatives to plastic packaging for your products?

- If that is the case, printed strapping is not right for you.




Do you require additional product information for products with an external container?

- If the answer is yes, printed strapping would be a good fit for your products.
Which Type Of Strapping Material Is Right For You?
Now that you have learned about printed strapping materials, would you like to learn more about the different types of strapping and their uses and applications?
If you answered yes, you will want to consider reading this companion article, The Top 3 Types Of Strapping Material And Their Uses. With the information in this article, you will have all the required information to decide if strapping materials are right for your product packaging needs.
About Nathan Dube
As the Digital Marketing Specialist at Industrial Packaging, I am honored to create content for such a phenomenal company and work with one of the greatest teams in the Packaging Industry. Whether creating a video, writing blog posts or generating other pieces of content and multimedia, I am always excited to help educate and inspire our prospects and clients to reach their highest potential in regards to their packaging processes and needs.