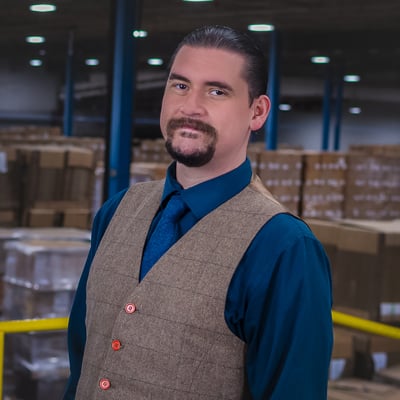 Ring Stretch Wrappers: Definition, Applications And Uses
If you like it, you should of put a ring stretch wrapper on it. Is that how the song goes? No? Well, all things considered, perhaps a ring stretch wrapper would make a better gift. At least, to your packaging line employees anyway.
When it comes to wrapping items such as sheet goods (like plywood), roll goods (like carpet), windows, doors, furniture, and motors (among other things), a ring stretch wrapper is the envy of any packaging line.
Ring stretch wrappers, also known as ring wrappers or LAN wrappers, are unique animals for the packaging applications for specialized or even oddly shaped items.
In fact, if I had to guess, I am willing to bet that you probably found this article by google searching for a tool that would be good for packaging one or more of the items listed above. Or maybe something similar to those items.
Maybe you are researching ring stretch wrappers because you are already considering buying one. Maybe you are just learning about ring stretch wrappers after looking online for the best packaging machinery for your products. Either way, you will most likely have a lot of questions about these machines before you go buying one (or at least, you should).
Having helped thousands of people buy the right stretch wrapper for their needs, the team here at Industrial Packaging is uniquely positioned to help guide you through understanding these machines.
In the article below, you'll discover information about ring stretch wrappers as well as their common uses and applications.

What Is A Ring Stretch Wrapper?
A ring stretch wrapper (AKA: a ringer) is a specialized type of stretch wrapping machine that is made specifically for horizontal load packaging applications. Some items commonly wrapped with this type of machine include rolled carpets and lumber.
The product being packaged in the ringer is moved down a conveyor belt, which starts on one side of the machine, runs through its center, and continues onward on the other side of the equipment.
The machine is usually square-shaped with a ring inside of the square portion. The ring spins around in circles, applying the stretch wrap to the top, bottom, and sides of the product being stretch wrapped as it moves from one side of the machine to the other via the conveyor.
If you are having trouble visualizing this process, check out the video below. In it, you will see a Lantech LAN-ringer in action as it is shown wrapping various items, including pallets of products and long horizontal shaped boxes.
As you can see, this is a highly specialized piece of machinery that is made to deal with horizontal packaging applications. Every other type of stretch wrappers would struggle with these applications, or they would simply not be able to wrap the products at all.
---
How much money could you save with an automated stretch wrapper?
---
When Should You Use A Ring Stretch Wrapper? What Are The Best Applications?
As seen in the video above, ring stretch wrappers are used for packaging products that would be overly complicated for standard stretch wrapping machinery.
From firewood bundling and lumber applications to items in excess of 30 feet or more, ring stretch wrappers are used for those items that demand a unique touch that is able to handle longer and bulkier loads or those of an odd shape or size.
Who Produces The BEST Ring Stretch Wrappers?
One word. LANTECH.
Lantech is the best brand of ring stretch wrappers on the market (honestly, they are the best brand of every type of stretch wrapper if you want to get right down to it). While we sell several brands of stretch wrappers, nine times out of ten, we sell a Lantech.
This is because they have superior engineering, design, tooling and mechanical components. Lantech has been making stretch wrappers longer than any other manufacturer of this type of equipment and they offer the best service in the industry.
And the Lantech LAN-ringer is no exception to the rule. This machine boasts a host of excellent features, including:

• 5" thick, 1,800 lb., forged steel, precision main bearing. - Better components means better quality.
• Exclusive dual support roll carriage. - Offering high-end wrapping unmatched by competitors.
• Lenze 5HP Drive System, "All-in-One Unit." (motor, brake, reducer). - Top shelf simplicity and production capabilities make for a smooth operation.
• Allen Bradley touchscreen Panel View 600 Plus. - Beautiful full color touch screen.
• Robust Power-thru® Conveyor System. - Gets your products through the machine with ease, speed and consistency.
• Lan-Logix™ state of the art control system. - For superior and concise control capabilities.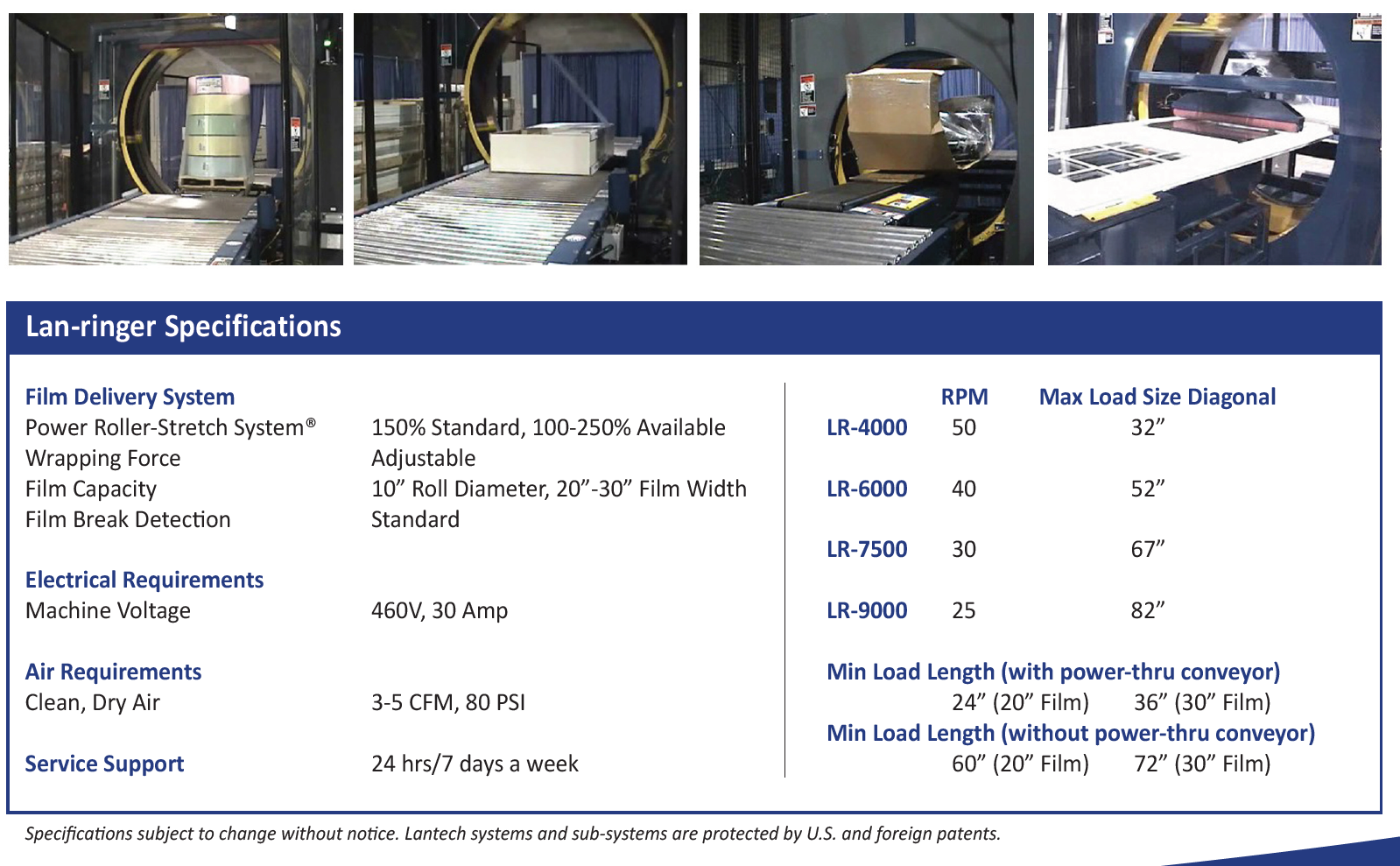 Sourcing Additional Information About Ring Stretch Wrappers
If you would like additional information on stretch wrapping machinery and materials, you can visit our learning center which is packed to the brim with information about the different types of stretch wrapping machinery and films currently available.
Simply enter your search query (for example: "stretch wrapper", and all of the content we have on this type of machinery will be made available to you.
If on the other hand, you are not thrilled at the idea of having to do all this in-depth research yourself, consider reaching out to one of our packaging experts. They will be able to review all of our stretch wrapping options with you and also compare other brands of machinery in addition to products from Lantech.
They will be able to help you choose the right stretch wrapper, stretch film and related items, even if you do not decide to purchase from us. We are here to assist in your buyer's journey and will help you to buy the correct machinery and materials for your needs.
We are uniquely positioned within our role as a distributor to work with the manufacturers in order to help you choose the best and most appropriate ring stretch wrapper for your packaging line.
To better understand how a stretch wrapper can save you a significantly large amount of money, you will want to consider using our free automated stretch wrapping machinery calculator. This handy free tool will help you to identify if stretch wrapping machinery is actually the best option for your palletizing needs.
About Nathan Dube
As the Digital Marketing Specialist at Industrial Packaging, I am honored to create content for such a phenomenal company and work with one of the greatest teams in the Packaging Industry. Whether creating a video, writing blog posts or generating other pieces of content and multimedia, I am always excited to help educate and inspire our prospects and clients to reach their highest potential in regards to their packaging processes and needs.