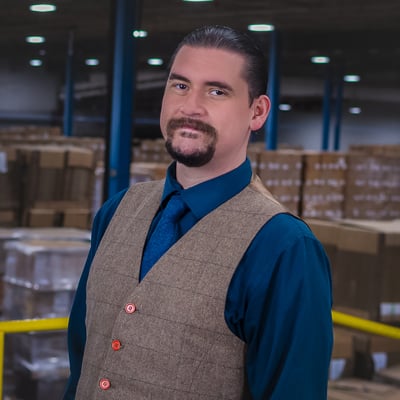 Best Ways To Bundle Firewood: Stretch Film, Shrink Film And Strapping
Equipment | Packaging Materials | Investment | Packaging Design
As the days slowly creep towards October, the humid air of summer begins to fall into the shaded paths of memory that only an Indian summer can remedy. Mornings and nightfall share the brisk cold air that calls to the trees as they start to ignite with the colors of fall.
Bright oranges, reds, and yellows begin to peek out from the edges of hardwoods, and you can often catch the scent of a campfire on the air throughout the day. Once again, pumpkin spice reigns supreme on the lips of many a passerby, and apples suddenly seem to be present in more than a few dessert offerings.
Indeed, autumn has arrived, and if you are like me, you savor every sweet second of cold air, tree lines ablaze with fiery color, and the toasted notes of campfire smoke enticing the senses to reminisce.
Now, if you work in the firewood industry, my guess is you are equally, if not even more excited than I am. During this time of year, many people begin to purchase firewood.
Some do this for the occasional campfire aesthetic, while many place their cord-wood orders in preparation for a long winter. When bundling firewood for the former application, there are several ways to go about this process.
When it comes to bundling firewood, you generally have three options. Stretch film, shrink film or strapping. Each of these are viable and appropriate ways to package firewood for consumers. Industrial Packaging has been bundling products with stretch film, shrink film and strapping materials for ages. We have learned a thing or two about bundling firewood during our many years in the packaging industry.
This article will explore these firewood packaging processes and materials and help you decide which type of material and machinery is right for your firewood packaging business.
Stretch Film For Firewood Bundling
You have probably seen stretch film wrapped bundles of firewood at some point in your life. If you have ever gone camping or have drummed up a fire by the lakeside, you have likely had to haul a few bundles of wood to one type of fire pit or another.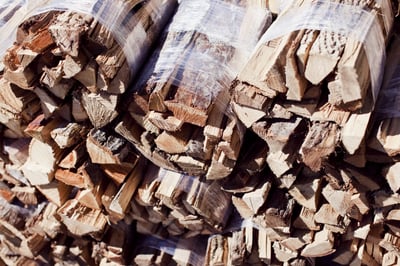 Around this time of year, gas stations, supermarkets, and general stores alike can be seen with large stacks of firewood bundles sitting out front. Campers will often grab a few bundles by the plastic handles that have been stapled into one of the bundles of logs, which are most commonly wrapped in stretch film.
Stretch film is the most common packaging material used for bundling firewood. With that being said, you are probably wondering:
What Is Stretch Film?
Stretch film (which is also known by the name stretch wrap) is a super stretchable thin/thick plastic sheet type of material commonly used to bundle products, consumer goods, and pallets of boxes for shipping. Stretch film has what is known as "elastic recovery" which is a fancy word for "stretchy".
Elastic recovery gives the film the ability to safely and adequately contain the products that the material is wrapped around. The higher the film's elastic recovery, the better the film can bundle firewood with the proper load containment.
Load containment differs from one type of stretch film machinery and material to the next. Depending on the devices and the type of stretch film you are using, your load containment's maximum stretch will vary.
When using stretch film to bundle firewood, you do not have to have high load containment. Each bundle is relatively small compared to wrapping a pallet of boxed products for instance. When bundling firewood with stretch film, there a couple of different options for the application.
Using Stretch Film To Bundle Wood By Hand
Many folks who cut and sell firewood choose to bundle their firewood by hand. They often use a small roll of stretch film, or as is the case in the video below, saran wrap.
While you can certainly do this for smaller volumes of firewood bundling, larger volumes of wood should be bundled with a stretch wrapping machine. This machine allows you to package a much larger volume of bundles per hour and provides superior load containment.

When bundling firewood by hand, you will generally use a roll to wrap the firewood. You can also wrap larger volumes of wood with the same technique or by using a tool called a stretch wrap dispenser, which will allow you to complete the job faster and with better load containment.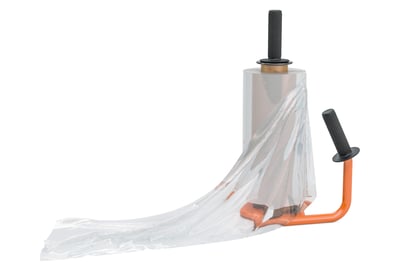 While these methods indeed work well for the smaller volumes mentioned, you can save a lot of time and money by upgrading to a stretch wrapper machine which is capable of wrapping far more wood in much less time, all the while providing superior load containment.
Using A Stretch Wrapper To Bundle Firewood
When bundling large quantities of firewood, either dozens or even hundreds of pallets of firewood per day, you'll want to consider using a stretch wrapper.
While there are many different types of stretch wrappers, when it comes to bundling larger volumes of firewood, you'll often use an orbital pallet wrapper.
What Is An Orbital Pallet Wrapper?
Orbital wrappers (which are also commonly known as a "ringer") are used to wrap a pallet by sending the stretch wrap over and under the load being contained by the machine. Orbital wrappers are usually used for packaging flattened or odd-shaped items such as firewood, carpets, windows, and other weirdly shaped products.
---
Want To Know How Much Money You Would Save With A Stretch Wrapper?
---
Shrink Wrapping For Firewood Bundling
Another option for bundling firewood is to package the bundles in shrink wrap. Shrink wrapping is done with packaging machinery including heat tunnels, sealers, and conveyors.
The bundles of firewood are stacked and separated on a conveyor belt. The conveyor moves the bundles through a sealer which coats the bundles in a loose bag made of plastic.
From there, the bundles of wood go through a heat tunnel which is a long metal corridor with a heater inside of it that blows hot air onto the bundles of firewood.
When the bundles of firewood pass through the heat tunnel, the heat causes the shrink wrap to shrink uniformly around the bundles. Once the bundles have passed through the heat tunnel, they are stacked on pallets, stretch wrapped and shipped to retailers.
Strapping For Firewood Bundling
You can also use strapping to bundle your firewood. Strapping is a type of plastic substrate that is used to bundle items such as firewood. There are many different types of strapping materials currently available.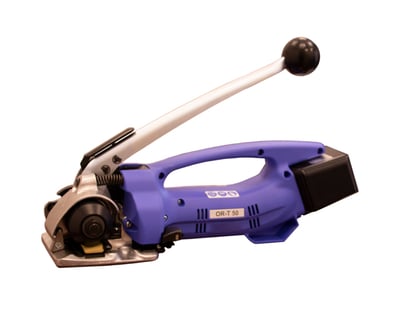 The most common type used for bundling firewood is made of plastic. Plastic strapping comes in rolls of long thin strips of material. Strapping is applied with a tool called a strapping machine. You can see how this tool is used in the video below.
Sourcing Stretch Film, Shrink Film, And Strapping

When you have decided on the type of stretch film and the related equipment required to stretch wrap your bundles of firewood properly, you will want to consider a few different options for institutions that sell these types of materials and machinery.
Packaging Distributors
This is the type of company that Industrial Packaging is. Packaging distributors are popular choices for buying stretch film, strapping, and related machinery because they often sell multiple different materials and machinery products.
Because of this, they are not limited to only one brand and can help you choose the best stretch film and stretch wrapping machinery that fits your unique needs, budget, and other related factors.
Packaging OEMs (Manufacturers)
You can buy your packaging materials and machinery from the companies that manufacture these items. People will often buy directly from OEMs. They are often the foremost experts on the materials and machinery they make. That being said, they only sell one brand of equipment and materials (their own). Some manufacturers will also not sell directly to consumers, so you will have to buy elsewhere.
Retail Stores
Brick and mortar establishments such as Home Depot and Lowes are popular alternatives to the businesses mentioned above. Shopping for your stretch film, shrink film, and strapping at places like this will allow you to inspect the product before purchasing and allows you to speak to another human being in person about the items in question. Businesses like this do not generally sell professional/industrial grade stretch wrapping machinery and materials.
Online Retailers
Companies like Amazon or Alibaba are another type of business from which you can buy your materials and machinery. Like distributors, these types of companies sell many different packaging materials and machinery; however, there are often fees and additional costs accrued as both the sellers and the company itself need to profit on the sale of the items being purchased.
If you want to save a few dollars, you will want to consider buying from one of the other options listed above. If, on the other hand, you prefer the ease of use and the convenience of shopping from home, this type of seller may be the right choice for you.
If you are unsure which type of stretch film and machinery is right for your firewood bundling needs, consider speaking with one of our packaging experts. They will help you choose the suitable stretch film and machinery in addition to selecting the best vendor for your specific needs, even if we are not the vendor you choose.
About Nathan Dube
As the Digital Marketing Specialist at Industrial Packaging, I am honored to create content for such a phenomenal company and work with one of the greatest teams in the Packaging Industry. Whether creating a video, writing blog posts or generating other pieces of content and multimedia, I am always excited to help educate and inspire our prospects and clients to reach their highest potential in regards to their packaging processes and needs.