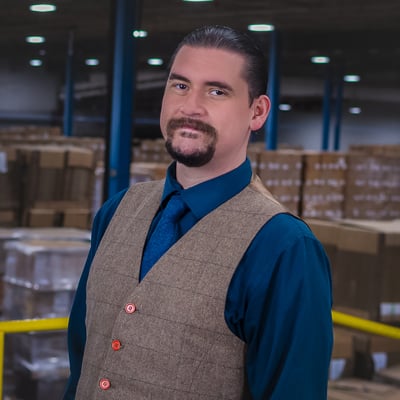 Top 4 Snack Food Packaging Supplies: Pros and Cons
In the expansive universe of snack foods, there are many different packages available and used by thousands of snack food companies. Even for a seasoned veteran in the industry, it's clear that there is a vast sea of options for packaging snack foods.
It may feel almost impossible to understand every option available to snack food producers today. With a little homework, you can quickly educate yourself on the most popular packaging supplies for snacks in our modern world.
From rigid forms of snack food packaging like paperboard tubes and cardboard boxes to alternatives like flexible pouches and shrink bags, there is a diverse abundance of packaging materials.
As a snack food packaging specialist, Industrial Packaging knows this niche market inside and out. Some of our largest customers exclusively sell snack foods. We have helped them run high-quality supply chains with ease and consistency for many years.
In this article, we will discuss some of the best types of snack food packaging, their applications, and their pros and cons. With this information, you will be able to choose the correct packaging for your snack foods.
Flexible Pouches
Flexible pouches (also known as stand up pouches) refer to a collection of different types of single-use containers generally made out of plastics or foils (metals such as aluminum). They are a type of bagging that is used for snacks and drinks. You might recognize stand-up pouches as the packaging of your favorite granola or Capri Sun.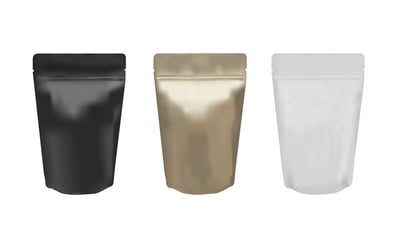 These versatile pouches have become insanely popular over the past couple of decades and are very common for snack food packaging applications such as bagging for chips, crackers, mixed snacks, chocolates, candies, crisps, and many other snack foods.
The rise in popularity comes from the fact that these bags are often resealable and have a low impact on the environment. They are fast replacing bulkier and more expensive rigid packaging supplies such as glass, metal, and card/paper board.
They can be used to package thousands of different items. This includes everything from granola to energy drinks. The sudden mass adoption of flexible pouches is based on the fact that they feature a very low carbon footprint.
The lower carbon footprint is highlighted when you compare them to alternative packaging materials like those mentioned above. Flexible pouches take up far less space in our landfills and feature virtually NO wrap rage.
Now, you are probably wondering... What on earth is WRAP RAGE?
"Wrap rage is a very unpleasant emotional feeling towards packaging that is very difficult to open or remove. Packaging supplies that induce wrap rage may even be hazardous to the consumers' health. This is especially true when dealing with packaging that requires tools to remove it, or packaging that has sharp edges itself."
When it comes to snack food packaging, flexible pouches are becoming one of the most popular snack foods for snack food producers and consumers alike.
Pros Of Flexible Pouches
Affordable
Easy to source
Full branding and graphic capabilities
Takes up little space in landfills
Very low carbon footprint
Easy to open
Resealable
Cons Of Flexible Pouches
Hard or impossible to recycle
Average of 1,000+ years to fully degrade
May affect the flavor your of food or liquids
Low resistance to extreme temperature during storage
Not viable for luxury packaging applications
---
Need Help Designing Your Packaging?
---
Paperboard Boxes
Paperboard boxes are another popular choice when it comes to packaging for the snack food industry. People use them for snack food packaging because they are sturdy, can be branded on all sides, are recyclable, and are a well-known material that consumers know and love. They also protect the snacks inside in a way that flexible packaging doesn't.
Paperboard boxes usually come in rectangular or square boxes. However, there are some less common shapes, such as hexagons or triangles.
They can be 100% paperboard or include other materials such as small clear film windows, allowing consumers to see the contents of the box.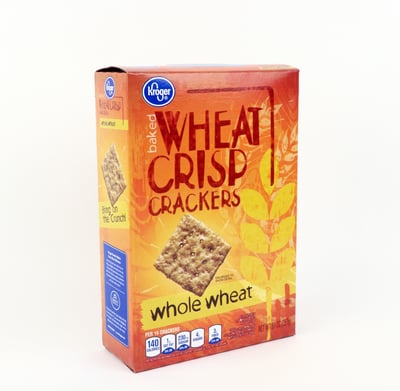 In some cases, as is most familiar with breakfast cereals, the box may have a plastic bag inside it that houses the actual food products.
A more specialized yet highly recognizable variation of this type of packaging would be the famous Pringles container. This renowned snack food packaging features a paperboard tube that is topped with a circular plastic lid.
Pros Of Paperboard Boxes
Easy to source
Full branding and graphic capabilities
Recyclable
Easy to open
Resealable
Cons Of Paperboard Boxes
Costly
Higher carbon footprint
While recyclable, often end up in landfills to due to contamination
Generates methane when in landfill
Hard Plastic Containers
Hard plastic containers, a type of rigid packaging, are another popular go-to form of snack food packaging. Hard plastic containers can come in various shapes and sizes and often feature an easy to open, pop-off lid.
Most hard plastic containers are made from easy to recycle plastics. If cleaned and dried appropriately before disposal, hard plastic containers will make it through the single-stream recycling process with ease. The majority of hard plastic containers are resealable and generally have low to no-wrap rage potential.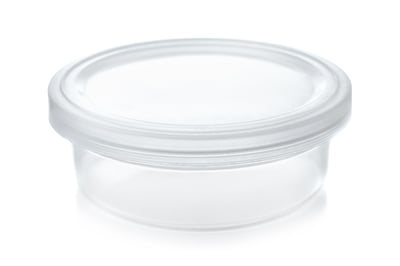 Seal bands can add a layer of protection against contamination and tampering. However, protective packaging on hard plastic containers like seal bands can increase the potential for wrap rage.
Snack foods commonly packaged in hard plastic containers include nuts, dried fruit, seeds, candy, chocolates, snack mix, pretzels, crisps, and various other types of snack foods.
Pros Of Hard Plastic Containers
Easy to source
Sturdy
Recyclable
Easy to open
Resealable
Cons Of Hard Plastic Containers
Costly
Higher carbon footprint
While recyclable, often ends up in landfills due to contamination
Expensive to ship
Glass Containers
Glass containers are another form of snack food packaging. However, they are not nearly as universal as the other types. This is because they are cumbersome, costly, expensive to ship, and have a much higher carbon footprint than plastic and different types of flexible and rigid packaging supplies.
Despite the issues mentioned above, there are many perks to using glass for snack food packaging. For one thing, Glass is straightforward to recycle. Glass boasts an air of luxury and sophistication, which makes it extremely popular with gourmet and luxury snack food brands.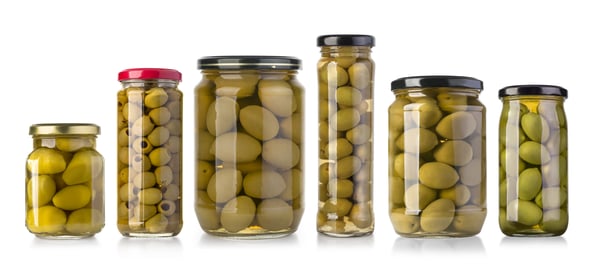 The tops of glass containers usually feature a metal lid. Metal is another expensive, high carbon footprint material that is also easy to recycle. Glass has become an accessible packaging supply in luxury, minimalist, and vintage packaging - all of which have been trending in the packaging industry in 2020.

Glass packaging allows consumers to visually inspect the products inside the container before making a purchase. Glass containers can be fully printed with graphic and branding elements by adding printed seal bands to the box.
Even with all the benefits, glass containers are incredibly subject to breaking or cracking, which can present a significant health hazard.
Pros Of Hard Glass Containers
Easy to source
Sturdy
Recyclable
Easy to open
Resealable
Luxurious
Cons Of Glass Containers
Expensive
Very high carbon footprint
While recyclable, often ends up in landfills due to contamination
Very expensive to ship
Prone to cracking and breaking
Takes up excessive space in the warehouse
Which Type Of Snack Food Packaging Is Right For You?
The type of snack food packaging that best suits your snack foods depends on a few different things. To best answer this question, you will need to answer the following questions:
Are you looking to save money?

If you answered yes, flexible pouches are your best option.

Are you packaging a luxury product?

Then glass packaging is probably your best bet.

Do you want protection against breakage and damage?

If you said yes, hard plastic containers would suit you best.

Are stack-ability and uniformity vital to you?

Paperboard boxes would be ideal.

Is the environmental impact an important consideration?

If yes, flexible pouches are your best choice (based on carbon footprint).

Are graphic and branding capabilities vital to you?

Flexible pouches or paperboard boxes are your best options.
Once you have answered all these questions, you should be able to form an idea about which option is best for your snack food packaging needs.
If, after answering these questions, you are still unsure which option is best for your applications, you will want to speak with a packaging professional to help you make the best choice for your unique packaging requirements.
Feel free to reach out to one of our in-house packaging experts. They will be able to advise you on which of the above is the best option for your products. They will help you choose the appropriate packaging materials and vendor, even if that means we are not that vendor.
Industrial Packaging is here to help you make the best decision to ensure the successful design, optimization, and implementation of the correct snack food packaging for your business.
About Nathan Dube
As the Digital Marketing Specialist at Industrial Packaging, I am honored to create content for such a phenomenal company and work with one of the greatest teams in the Packaging Industry. Whether creating a video, writing blog posts or generating other pieces of content and multimedia, I am always excited to help educate and inspire our prospects and clients to reach their highest potential in regards to their packaging processes and needs.