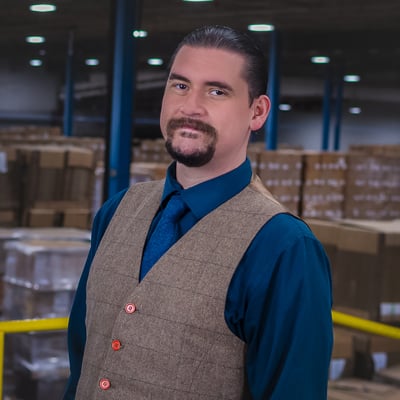 The Pros And Cons Of Printed Shrink Film
Equipment | Packaging Materials | Environment | Investment | Packaging Design | Packaging Psychology
You may be familiar with shrink film, but are you familiar with printed shrink film? While shrink film is a great material to package your products with, adding print directly to your packaging film takes things to the next level!
What are the differences between printed and non-printed shrink film? What are the pros, cons and applications that printed shrink film can best be used for? Is it a good fit for your packaging line and your products? Let's figure this out together.
What Is Printed Shrink Film?
There are two main types of printed shrink film. Polyolefin and polyethylene. Polyethylene shrink film, which is most commonly sold by OEMs, is thicker than Polyolefin. Polyolefin shrink film is more commonly sold by distributors and tends to produce a tighter shrink on the products it is used to package.
At its core, printed shrink film is practically identical to a non-printed film. However, unlike regular shrink film, printed films have the ability to place branding imagery and eye catching graphics directly on the packaging. Printed polyolefin shrink film negates the need for labels and spruces up the packaging with colorful graphics.
It is used by many high-volume CPG businesses and is an important option. Printed shrink film has a minimum order quantity (MOQ) and may not be a good fit for low-volume applications. The minimum order for printed shrink film is generally around 50,000 impressions. An impression is the length of film to wrap one bundle.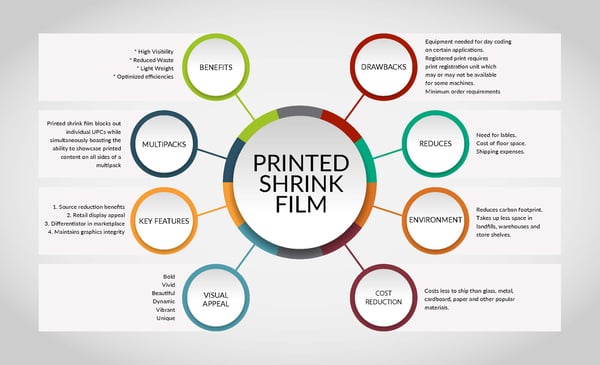 Pros Of Printed Shrink Film
Printed shrink film has a significantly greater shelf appeal as it can be printed with full color, high quality graphics and imagery. This makes it far more eye-catching to consumers than non-printed shrink film. In this respect, it is also superior to paperboard boxes in regards to carbon footprint, visibility and shipping cost.
Printed shrink film maintains it's graphics integrity for long periods of time and allows for your product to be vibrantly differentiated from your competitors products in the marketplace. It is a strong and beautiful material that many companies are choosing over clear, non-printed shrink film and other common packaging supplies.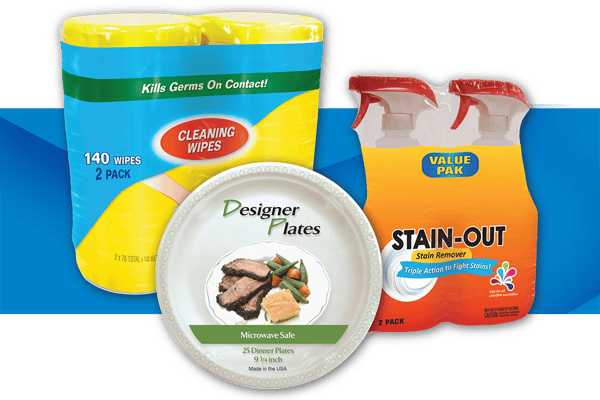 With bold and vivid color combinations, printed shrink film gives your products a psychological advantage in relation to brand awareness and marketing applications. When placed next to a similar product from a competing company who does not utilize printed shrink film, you can be sure consumers will reach for your items first.
---
Need Help Choosing The Right Shrink Film For Your Application?
---
Printed shrink film is also fantastic for blocking out individual UPCs while simultaneously boasting the ability to showcase printed content on all sides of a multipack. For some multipacks, it can eliminate more expensive and less environmentally friendly options such as paperboard boxes.
Items that commonly use these features would include but are not limited to multipacks of tissue boxes, condiments, pasta, rice and other similar products. Furthermore, printed shrink film allows for multipacks of various products to be easily unitized without trays in various put-ups.
Recap Of The Pros Of Printed Shrink Film
Greater Shelf Appeal
High Visibility
Blocks out individual UPCs
Multipack unitization
Printing on all sides
Printability on lighter gauge films result in more footage per roll, which in turn means in fewer roll changes in production
Reduced Waste
Light-weight
Source reduction benefits
Differentiator in marketplace
Maintains graphics integrity
Cons Of Printed Shrink Film
Of course, like everything else in the world, there are some drawbacks to using printed shrink film. Although it is more expensive than clear shrink film... the costs are often offset by other factors. Again, as a premium product, most vendors selling printed shrink film require minimum order quantities.
The cost of these larger orders may prove to be overly expensive for certain companies. That being said, printed shrink film negates the need for labels and reduces labor. Depending on your particular application, printed shrink film may actually be cheaper for your packaging line.
There is an initial setup and cost associated with printed shrink film as printing plates are required for each design, which may also be the case for labels.
In this respect, printed shrink film is best suited for companies who will be packaging a very large volume of products. Smaller applications may be better off using clear and non-printed shrink films. When this is the case, you will need to use printed labels for required information and graphics.

Other potential cons include that additional equipment may be needed for date coding on certain applications. Printed shrink film requires equipment that has a print registration unit. Additionally, If your equipment does not have a print registration unit, or it can not be retrofitted, it may require additional equipment.
Unfortunately, printed shrink film is not recyclable. If you wish to use a recyclable material, you will want to consider a clear plastic shrink film or perhaps bio-degradable shrink films.
Recap Of The Cons Of Printed Shrink Film
Minimum order quantity restrictions
May require an upgrade or replacement of machinery
Not recyclable
Conclusion
Printed shrink film is a good choice for those companies who have the right equipment and a budget that can justify the high cost of implementation. In this respect, printed shrink film is a highly useful tool. Boasting much greater shelf appeal, beautiful full color graphics and high strength, printed shrink film can put you ahead of the pack (pun intended)!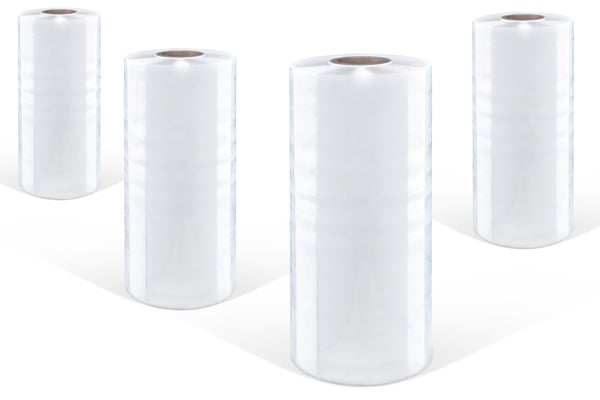 With bold, beautiful and vibrant color combinations, the eye catching appeal of printed shrink film is guaranteed to give your products multiple advantages over competitors who do not utilize said material.
Ultimately, the true value of printed shrink film to your company is decided by your budget restrictions and production volume. If you have the capital to invest and are packaging a high volume of products, using printed shrink film can ensure greater profitability, higher visibility and expansive brand awareness.
Despite the issues with recycling, printed shrink film is still a far better option in regards to sustainability as it has a significantly lower carbon footprint than the most common packaging materials. Glass, cardboard, metal and paper will all produce a greater carbon footprint and a higher shipping cost than printed shrink film. When it comes to reducing your brand's overall carbon footprint for sustainability, printed shrink film is an excellent choice.
About Nathan Dube
As the Digital Marketing Specialist at Industrial Packaging, I am honored to create content for such a phenomenal company and work with one of the greatest teams in the Packaging Industry. Whether creating a video, writing blog posts or generating other pieces of content and multimedia, I am always excited to help educate and inspire our prospects and clients to reach their highest potential in regards to their packaging processes and needs.