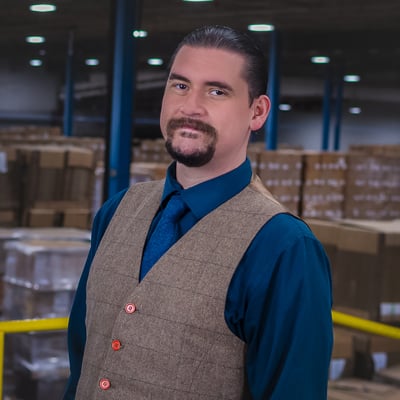 Exploring The Different Types Of Clamshell Packaging
All right! You are ready to move forward with a new packaging project, and you have found the type of packaging materials that you feel makes the most sense for your business.
After searching through various types of packaging supplies, you eventually came across carded packaging. While lightly perusing this topic, you found clamshells—the perfect containers for your packaging needs.
You know that you want to use clamshells for your products, but you are unsure which type of clamshell you wish to use.
You are familiar with a couple of different types of these containers, but you are unsure which type makes the most sense for your business.
That is why we are going to help you select the best clamshell packaging for your products.
As a multi-generational packaging company, we have been working with clamshell packaging for more years than we can count!
This article will introduce you to the most popular clamshells currently available today. With the information in this article, you will be able to choose the proper clamshell packaging for your product packaging requirements!
What Are The Different Types Of Clamshell Packaging?
There is a whole sea of clamshells currently available (pun intended)! From various types of biodegradable options to traditional plastic clamshells, there is a lot to choose from!
And, while there is a decent variety of clamshells currently on the market, some are more popular with consumers than others. Below, we will explore the most popular types of clamshells commonly seen out in the wild today.
So, get your waders on, grab a bucket and a shovel and prepare for an adventure! We are going shell fishing!
1. Thermoform Clamshell Packaging
Thermoform clamshell packaging helps to both protect and market your products. Thermoforming gives you the ability to expertly craft a perfect custom clamshell that takes the shape of your items.
These clamshells have been on the market since 1961. However, with today's advanced technology, thermoformed clamshells have significantly enhanced branding and protective properties when compared to those created back in the 1960s.
Thermoform clamshells are designed and created with CAD/CAM design and 3D-Printing. Thanks to in-house tooling, these clamshells can be custom-made with fast delivery and ultra-high quality.



Thermoform clamshells are available in three varieties, including two-piece, fold-over, and tri-fold freestanding models. These clamshells are made from various materials, including PVC, RPET, and PETG plastic.

Thermoform clamshells feature excellent package protection and product visibility. They provide enhanced stability for light to heavy products.
Custom thermoform clamshells can be made with multiple contoured cavities. And, they can be made into unique or complex shapes, die cuts, and designs.
Thermoform clamshells feature beautiful G7 printed insert cards with high-quality graphics that will catch the eyes of consumers.
As a form of protective packaging, they are sealable for protection against theft. Thermoform clamshells also feature excellent tamper resistance.
You can find these clamshells in hardware stores, supermarkets, gas stations, and various other consumer goods retailers.
It should be noted, thermoform clamshells are the only clamshells on this list that we sell here at Industrial Packaging.
2. Plastic Clamshell Packaging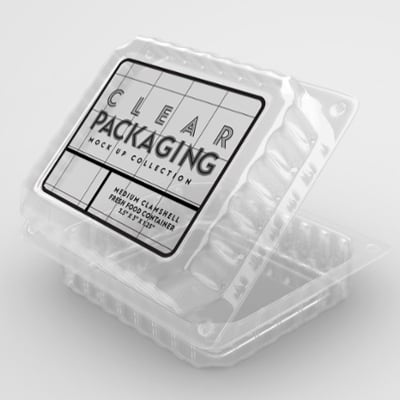 One of the longest-running and most well-known forms of clamshell packaging is plastic clamshells. These have been on the market for decades and are still extremely popular with food manufacturers and retailers alike.
Most often featuring two interlocking "shells" made from PET (polyethylene terephthalate), plastic clamshells are a common sight wherever food is sold.
Plastic clamshells are used for packaging many types of food, including sandwiches, salads, desserts, seafood, chicken wings, and various other types of food.
You can find plastic clamshells at supermarkets, food marts, country stores, gas stations, food trucks, catering businesses, in-store salad bars, and various other types of food retailers.
As most plastic clamshells are made of PET plastic, they are technically 100% recyclable. That being said, for them to be properly recycled, all food particles and contaminants must be removed.

The containers should be washed and thoroughly dried before being put into a single-stream recycling bin or sent to a local recycling center.
---
Need help designing your packaging?

---
3. Paperboard Clamshell Packaging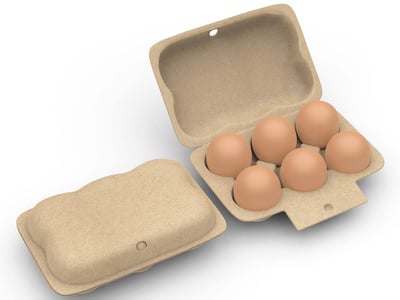 Next up, we have paperboard clamshells. These have been gaining in popularity over the past decade or so. Often used for hot food applications, they are quickly gaining on plastic clamshells and have become a fan favorite with consumers in various market segments.
Paperboard clamshells, like their plastic counterparts, feature two shells that are connected on one side while featuring interlocking tabs on the other.
Recycled paperboard clamshells are an even more popular variant of this type of clamshell packaging. They are made of recycled materials and are a big draw for businesses with earth-conscious consumers. Although, they are not exactly "green."
This is due to the fact that these containers, once stained with grease, sauce, or other similar contaminants, cannot be recycled.
While some paperboard clamshells feature a wax coating that may deter grease, sauce, or other food stains, this is not always the case.
Paperboard clamshells can be found in supermarkets (primarily for raw egg packaging), food trucks, restaurants, BBQ joints, eateries, caterers, serve-yourself hot food bars, and various other types of food retailers.
4. Plant Fiber Clamshell Packaging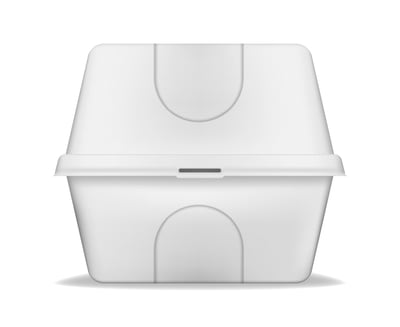 These unique clamshells are most commonly made from wheat grain and chaff, perfect for hot and cold food packaging applications.
Unlike other bio-based clamshell products, these containers are soak-proof and resistant to water and liquids. Like most clamshells, these carded packaging supplies feature two shells that are attached on one side while boasting interlocking clasps on the other.
Plant fiber clamshells look similar to their paperboard cousins and can be used for many of the same applications.
You can find these plant-based packaging supplies in various places, including restaurants, supermarkets, food trucks, and beyond.
It should be noted that many plant fiber-based clamshells are ASTM D-6400 standard for compostability, meaning they can only be composted in an industrial composting facility.
5. Sugarcane Clamshell Packaging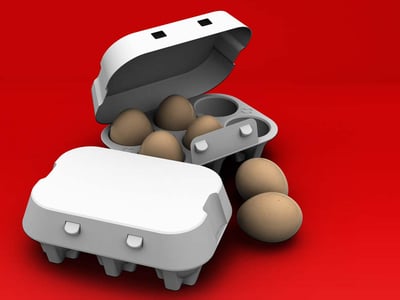 Coming in at number four, we have a new form of biodegradable clamshell packaging. These clamshells greatly resemble styrofoam clamshells in color and appearance but are a far more eco-friendly choice.
Made from 100% bagasse (the plant waste from sugar cane production), these containers are entirely plant-based. These guys are commonly used for hot food packaging applications similar to those that paperboard clamshells are used for.
It should be noted; however, most biodegradable packaging materials will require an at-home compost pile or need to be picked up by an industrial composting facility for the container to properly biodegrade.
As these containers are made from plant matter, they can't be recycled, and if they end up in a landfill, they will not biodegrade properly.
6. Styrofoam Clamshell Packaging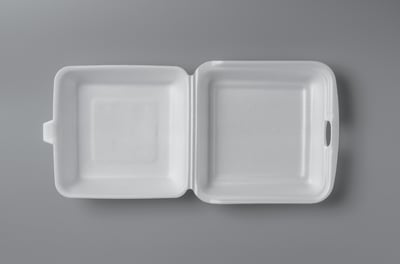 One of the longest-running types of clamshell packaging on the market, these styrofoam containers are commonly used for many hot and cold food applications.
Working similarly to other clamshells, these containers feature two shells connected on one side while sporting a tab on the top shell that keeps the container closed when clipped into the hole on the bottom shell.
Many years ago, these clamshells were the leader of the pack, primarily because they were some of the only ones available at the time.
While they are still reasonably common, they are quickly falling out of fashion with consumers due to the serious environmental problems associated with styrofoam.
You can find these containers in restaurants, supermarkets, caterers and various other food retailers.
Are There Other Types Of Carded Packaging That Could Benefit Your Business?
You should have everything you need to choose the best clamshell packaging for your food packaging applications with the information above.
With that being said, clamshells are only one type of carded packaging. There may be other materials in this category that could be useful for your future packaging projects.
Would you like to learn about the other types of materials currently available from the carded packaging family of products?
If you are inclined to broaden your understanding of carded packaging and how the different types of these packaging materials may benefit your business, you will want to consider reading this companion article, Carded Packaging: The Difference Between Blister, Skin, And Clamshell Packaging.
With the information in this article, you will be able to identify the type of carded packaging that is best suited for your next packaging project.
About Nathan Dube
As the Digital Marketing Specialist at Industrial Packaging, I am honored to create content for such a phenomenal company and work with one of the greatest teams in the Packaging Industry. Whether creating a video, writing blog posts or generating other pieces of content and multimedia, I am always excited to help educate and inspire our prospects and clients to reach their highest potential in regards to their packaging processes and needs.