Equipment | Packaging Materials
We get calls all the time from people who tell us they can't get their product to come out the way they want it to on their packaging machinery. We hear and understand the frustration when your final product does not look anything like what you thought it would look like. That being said, I'm happy to help anyone who is having a problem, it's what I do, and I enjoy solving problems. And so, I often find myself consulting customers and trying to help them with their packaging machinery and materials problems. But, then I realized that sometimes when people do online research, they might not fully understand how different machines and materials will react to their products. When I hear someone say: "I purchased a machine from here", another machine from there, and my materials from yet another supplier", my mind starts spinning with all kinds of questions and concerns. For example, we provide technical service for many of our clients. One day, we got a call about a machine purchased overseas that the customer could not get started. The machine did not have a manual, so we had to send away for it. When it came in, our tech started going through all the steps only to find out one of the boards was bad. The time spent on calls and waiting for parts to come from overseas was so frustrating for the customer. Not only that, but the expense to have us come out several times to make repairs on a machine that was purchased online was very costly. While the machine they bought online was less expensive than one bought in the states, it was now costing them almost as much. When ordering online, there is more thought that needs to be given to what your expectations are which include, your desired outcome and the capabilities of each aspect of your process when everything is in place. Having worked at Industrial Packaging and by extension, within the packaging industry for over twenty years, I have come to realize that many consumers often make mistakes when buying machinery and materials on-line and then trying to make adjustments themselves. In this article, I will break down some common issues and help you to better understand how to execute the packaging design you have inside your head. You will be able to translate that idea into a reality with the information presented below.
Equipment | Technical Service and Support
Do you know the ideal containment force for each of your different pallet loads? Are you seeing increases in reported load damage with your shipped goods, or maybe more damaged product than you would like? Have you been using more stretch film to wrap your loads than is necessary with your stretch wrapper?Understanding containment force and how to measure it will guide you in mastering your ideal wrap force, reducing both load damage and film usage.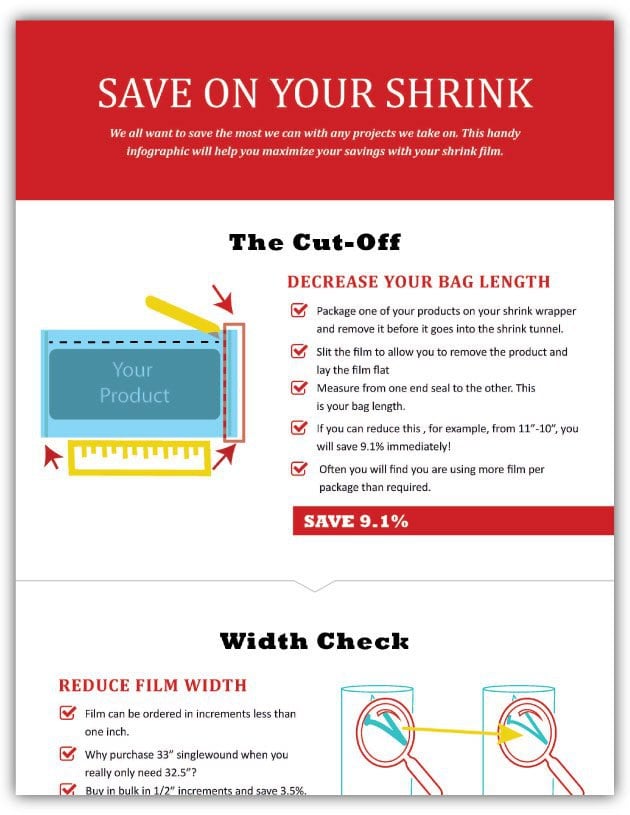 Shrink Film Cheat Sheet
We all want to save the most we can with any projects we take on. This handy infographic will help you maximize your savings with your shrink film. Get it for free when you subscribe to our blog.
Equipment | Plant Performance | Technical Service and Support
Why It's Working, How It's Working, and How To Join Our PM Program The proof is in the pudding! We have seen an average annual cost parts and maintenance reduction of 32% or more for customers who have joined our Preventative Maintenance Program! When can you fit it into your busy production schedule though without causing any delays? Plant shutdowns are the ideal time to give your machines a little TLC, grease those gears and replace any worn parts.
Equipment | Plant Performance | Technical Service and Support
Preventative Maintenance and Spare Parts A well-maintained packaging line is a key component to your productivity success and equipment uptime, but how well-prepared are you for those times when things go awry? If you don't have a full-time, in-house Service Manager, or your Maintenance Department doesn't have the bandwidth to handle everything, our Service Manager and our Technical Service Department can help you better prepare for those down-time blues and keep your ship steaming ahead..