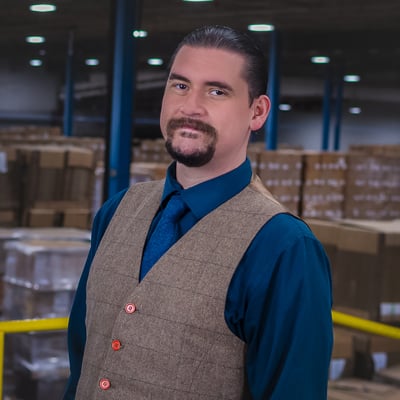 How To Choose The Right Strapping Material
You have a few different options when choosing a strapping material that is good for palletizing your products before shipping and other related packaging activities.
And in some cases, those options may be interchangeable based on the products you are packaging and the tensile strength of the strapping you need.
But, how do you know if the strapping you are currently using or want to use in the future is the appropriate material for your palletizing needs?
Is there a way that you can identify which type of strapping material is best suited for your packaging requirements?
Are there any tools that can help simplify the process of finding the correct strapping material needed to contain your palleted products properly?
You bet there is! And, we are going to give those tools to you today.
With over sixty years of experience in the packaging industry Industrial Packaging has helped thousands of clients choose the best strapping material for their unique packaging applications.
And, we can help you find the correct strapping for your needs as well.
After reading this article, you will have all the information and required tools to help you choose the proper strapping solution for your unitizing, palletizing, and containment requirements.
How Do You Choose The Proper Strapping Material For Your Products?
As you begin your journey in sourcing the correct strapping material for your specific packaging needs, you need to make sure that you have certain items in place before you make a purchase.
You will need to know what the different kinds of strapping materials are. You will have to understand which of those materials has the proper tensile strength for your applications.
And finally, you will need to answer a set of questions to determine which material is best suited for your needs.
So, come with me, and we shall go on this quest together!
What Are The Different Varieties Of Strapping Material?
When it comes to selecting the correct type of strapping for your unique packaging applications, you have to make sure that you understand the different types of strapping that are currently available on the market.
Just googling "strapping" and buying the first material that you think might be a good fit is not the way to go during this process.
Below, we will provide you with a brief introduction to the three main categories of strapping materials. If you would like a more in-depth explanation of these items, you can find them in this article.
---
Need help finding the right strapping material?
---
1. Polypropylene Strapping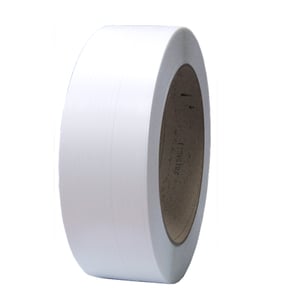 Polypropylene (also known simply as "PP") strapping is an extremely popular variety of strapping material. It is available in a selection of tensile strengths (the max weight the material can handle before it breaks), widths, and core sizes.
These metrics will be determined by the application you are using and the products you are packaging.
As this form of strapping is almost always embossed, it boasts extra strength and superior texture for enhanced friction. Embossed strapping also features a significant reduction of dust formation during the application of the strapping materials to your products.
You can use both manual handheld tools and fully automated packaging machinery to apply this formulation of strapping.
2. Polyester Strapping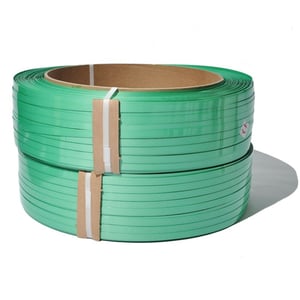 Polyester (AKA: PET) strapping has a nice smooth texture. However, it may be embossed upon request. The majority of polyester strapping is made from recycled soda bottles.
Considered a "heavy-duty" packaging material, polyester strapping boasts a higher tensile strength than steel and has good thermal tolerance.
It also features a decreased tension decay over polypropylene. This translates to superior tension for an extended period of time.
You may employ both manual handheld tools and fully automated packaging machinery to use this formulation of strapping.
3. Steel Strapping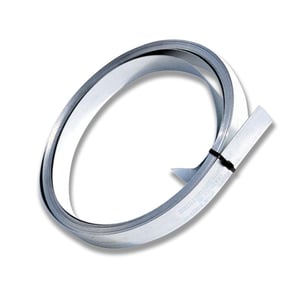 Steel strapping is, quite frankly, an endangered species. You do not see it out in the wild very much anymore.
It is almost exclusively used for railroad shipping applications when an external container is not used to house the shipped products.
This is a government requirement enforced by the Association of American Railroads. Applications for steel strapping primarily revolve around heavy industrial products such as steel beams and construction equipment.
NOTE: There are some specialty polyester strapping materials that are approved by the Association of American Railroads for applications normally reserved for steel strapping.
Both manual handheld tools and fully automated packaging machinery may be used to strap steel strapping. However, it is most commonly applied with a handheld tool.
How Do You Know Which Type Of Strapping Material Is Right For Your Products?
In order to figure out which type of strapping material is the correct option for your packaging applications, you are first going to have to answer a group of questions.
With the answers to these questions in hand, you will have everything you need to choose the proper strapping material for your business.
Are you packaging stacks of periodicals such as newspapers, magazines, or trade publications? - If you said yes, polypropylene is the best choice for you.


Are you palletizing masonry products such as bricks, concrete blocks, or tiles? - If your answer is yes, polyester strapping is your best choice.


Are you packaging heavy industrial items such as iron beams or construction equipment? - If so, steel strapping is the way to go.


Are you packaging flooring such as hardwoods and laminates? - If that is the case, polypropylene is the strapping material for you.


Are you packaging pallets of bottled or canned beverages? - If you are, polyester strapping is the best option for your needs.


Are you shipping your products via railroad without a container? - If you said yes, you will be required by the government to use steel strapping.


Are you palletizing appliances like stoves or office equipment such as copiers? - If that is what you are doing, polypropylene is the material of choice.


Do none of your products fall into the categories above? Would you like assistance in finding the correct strapping for your needs? - If you said yes, consider speaking with one of our packaging specialists. They will help you find the right strapping for your products.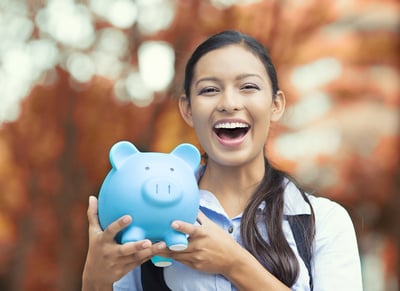 How Much Does Strapping Material Cost?
With the information above, you should have absolutely all the information that is required to choose the appropriate strapping for your packaging project.
But, if I had to guess, you are probably wondering, how much does strapping material cost? Would you like to get pricing for the type of strapping material that you have chosen?
If you would, you will want to think about reading this follow-up article, How To Calculate The Cost And Volume Of Your Strapping Materials.
This article will give you everything you need to get an exact cost for the amount of strapping required to package the volume of products you are looking to contain.
About Nathan Dube
As the Digital Marketing Specialist at Industrial Packaging, I am honored to create content for such a phenomenal company and work with one of the greatest teams in the Packaging Industry. Whether creating a video, writing blog posts or generating other pieces of content and multimedia, I am always excited to help educate and inspire our prospects and clients to reach their highest potential in regards to their packaging processes and needs.