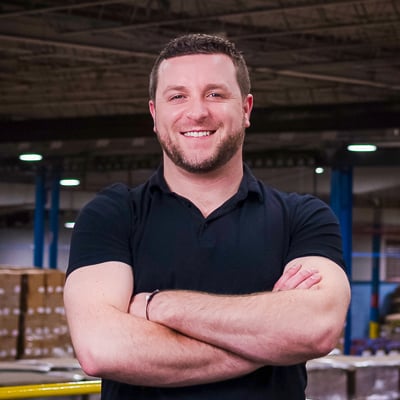 How Shrink Wrap Can Prevent Damage, Loss, And Reduce Costs
Packaging Materials | Environment | The Business of Packaging | Packaging Design
When it comes to packaging your products, shrink wrap, aka shrink film, is often the ideal type of material for meeting quality and protection needs while remaining cost-effective.
But, what is shrink wrap, and what is it that makes it so versatile for multiple packaging applications? How can you use it to your brand's advantage and make a positive impact to your total cost of packaging? Why is a packaging specialist important?
I've broken up the answers to these questions below:

What is Shrink Film?
Shrink film is a versatile polymer packaging material used for the primary and secondary packaging of finished goods. Heat is applied by either a heat tunnel or heat gun causing the film to shrink around the item placed within it, creating a clear & durable barrier of protection around the item placed within it.
There are many forms of shrink packaging including over wrap, tubing, bagging, printed shrink film and marine industrial shrink wraps (for large, storage-specific applications).
Shrink packaging can be broken down into two main types: PVC & polyolefins.
PVC (or poly-vinyl chloride) shrink film was once the most popular form of shrink packaging and is often still used for packaging boxes and CD's. However, it becomes brittle after heat is applied, compromising its strength and durability. It has also lost popularity due to the by-products created when heat is applied.
Why? A small amount of hydrogen chloride is released into the air when PVC is heated for one. Additionally, carbon build-up on the heat-sealer itself creates more frequent technical issues and damaged packaging. PVC is also very sensitive to temperature changes after being heated, which means it is prone to breakage.
Polyolefin shrink film has become the most popular form of shrink packaging available on the market today, taking the lead over PVC due to its higher versatility and durability.
Along with these traits, polyolefin shrink is food-safe and FDA approved, has excellent puncture & tear resistance as well as being more versatile and environmentally-friendly than its PVC alternative. Additionally, it offers higher clarity, making it ideal for shelf presence, and it's protective qualities make it useful for almost any application.
Cross-linked polyolefins are often used for high-speed applications and provide further seal strength,less residue left on machinery and longer rolls which creates less time spent on changeovers and increased productivity.
How to Select The Ideal Shrink
First off, it's important to know that shrink film is great for packaging all types of products. These include frozen foods, confectionery goods, electronics, paper & greeting cards, personal care & other consumer goods. It's also great for bundling items together for promotion or unitizing multi-packs. If you wrap gift baskets, polyolefin shrink is an excellent option. As mentioned above, shrink film is known for its versatility.
Selecting the film that is best suited for your application depends on several factors. These include the item dimensions, weight, and shape of the item or items to be packaged, as well as the quantity you need to package per day, and the type of product to be packaged.
For small, light-weight items without odd edges or sharp corners, a lower gauge film will often work well for your product. Shrink film is available in thicknesses as low as 35 gauge and as high as 100 gauge, and there are multiple stocked widths available. A heavier gauge will be required for larger, heavier, and more odd-shaped items to be packaged.
Most shrink films are stocked and sold per inch of width, with the lowest width being 8". For large operations with high output, customized widths are available, down to the 1/2". These may be suitable to positively impact the cost of packaging for high-output facilities. If you aren't sure which width is ideal for your item, check out our handy film width calculator!
Benefits of Shrink Film
One of the main benefits of shrink film is that it is recyclable.
As sustainability becomes more and more a focus for CPG businesses small and large, having a package that meets sustainability standards is important. Polyolefin shrink also doesn't release harmful vapors during the heat-sealing process, like PVC.
Cross-linked films work well for items with sharp edges due to it's strength and offers higher tear and puncture resistance, reducing the chances of a package being compromised during shipment. Its also great for tamper-reduction. If you are packaging thousands of items per day and using automatic or semi-automatic wrapping machines, cross-linked shrink will help reduce product damage and packaging waste.
Polyolefin shrink can be customized to the product you are packaging as well. For added versatility, there are formulations of shrink film perfect for packaging meats or frozen foods. These formulations include barriers to reduce fog (anti-fog), or moisture-vapor transmission reduction (MVTR).
How Can Shrink Film Reduce Costs
Have you tried to reducing your corrugated? By taking advantage of shrink film's strength & durability, many brands have been able to remove corrugated packaging from their multi-pack products altogether. Heavy products can be securely wrapped in shrink without the need for a corrugated tray. Lightweight items, like single-serve chips can be packaged in a poly bag. This not only helps to reduce the cost of packaging, it also reduces your shelf footprint & opens up space in your facility.
Additionally, polyolefin films are great for print. Poly shrink can have a wide array of colors and designs printed on it for wrapping your product in style. You can print high-quality graphics to gain that much-desired retail visibility. Reduce the cost of packaging even further by printing nutritional information right on the package!
With new technologies becoming available almost daily, you can further optimize your packaging for cost reduction by down-gauging or selecting a lower width film. Work with a Packaging Specialist to conduct a film audit for your packaging line and see what options are available for you.
How to Start Packaging with Shrink Film
There are different machines available for different volumes. I-bar sealers are generally used in low to mid-volume applications. The I-bar will cut and seal one side at a time and generally requiring 3 steps to fully seal. The L-bar machines are for larger volume projects. The L-bar is shaped like an L, and seals all sides in one pass. There are still some (though very few) exceptions to the versatility of polyolefins, so be sure to check for machine compatibility with your supplier before purchasing.
As mentioned above, there are Packaging Specialists available that have expertise in all things shrink film, and can help you find ways to reduce your packaging costs based on your particular business needs, or optimize your current packaging for higher efficiencies.
Have a question about shrink film that wasn't answered above? Leave a comment below and make sure to utilize our free shrink film width calculator!
About David Roberge
I am grateful for my 9 years as part of the outstanding Industrial Packaging team. I was able to hang out with some of the most knowledgeable folks in the packaging industry. I feel even luckier that I was able to share that knowledge with you. I love learning, hiking, and growing people and teams both personally and professionally, and helping companies grow better.