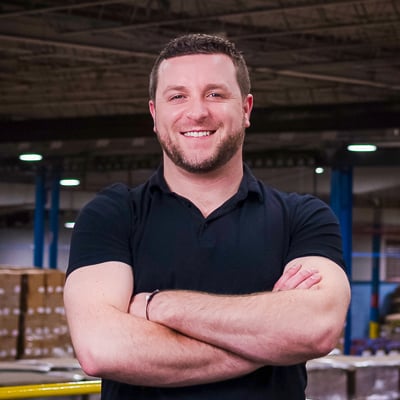 Impacting The Cost of Shipping Damage With Stretch Wrap

Turn the high cost of damaged goods around with the right stretch
How much has product damaged during shipment cost your business in the past year? Busy Supply Chain, Plant, & Operations Managers must take into account the many factors that make up the true cost of these damaged goods while finding the root cause to stop the bleeding.
Understand the actual costs of damaged goods and where stretch wrap fits in to the remedy.
True Costs of Shipping Damage
The annual cost of shipping damage for busy consumer goods manufacturers & distributors is tough to properly calculate, and has a high potential of not being reported accurately. In addition to the cost of the products lost each year, here are a few other items that are impacting the true cost of your shipping damage:
Damaged/compromised shipping material (the cost of the wrap used on the pallet). This can be a significant missed cost if the business is producing a high volume of pallets that are not making it to the destination intact).
Additional freight costs for reshipment
Additional labor, productivity, & time lost to re-picking/packing/palletizing/shipping
If this is common and you carry shipping insurance for your goods, you may be seeing increases in insurance costs.


What about the unhappy customer? Take into account canceled deliveries and the lost revenue this may cause, in addition to the lost profits from that customer if they are fed up and go elsewhere.
Damage Reduction With Stretch Wrap
If you are seeing a significant amount of damage due to tipping or ripping pallets, you can mitigate this in several ways:
Film audits and determining the proper film specifications required for your products.
Regular preventative maintenance on your machinery


Do you know the gauge and formulation (e.g., blown vs cast, machine vs hand) for the stretch wrap that will properly secure the products you are palletizing?
If you aren't sure of the above and you are in the New England area, it may be worth getting an evaluation of your films by one of our Service Techs. We have Technicians available to help you evaluate your machines and/or film, make the proper adjustments for optimal usage and reduced damage, and start driving load damage costs in the right direction.
Our Packaging Specialists can also help you determine the ideal gauge and formulation for palletizing with a quick conversation. Get started here.
About David Roberge
I am grateful for my 9 years as part of the outstanding Industrial Packaging team. I was able to hang out with some of the most knowledgeable folks in the packaging industry. I feel even luckier that I was able to share that knowledge with you. I love learning, hiking, and growing people and teams both personally and professionally, and helping companies grow better.