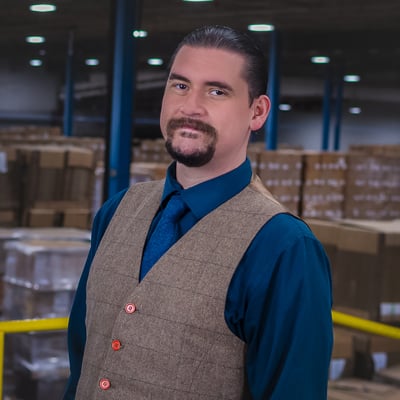 Shrink And Stretch Film Versus Corrugated Boxes
Packaging Materials | Investment | Packaging Design | Shipping Protection | Warehousing
When choosing a material to package your products for shipping, there are many options. While corrugated boxes remain a popular choice, those in the know are forgoing this antiquated method for the less costly options of shrink and/or stretch films.
With a significantly lower carbon footprint, these films also result in less of an environmental impact. So what does shrink and stretch film have to offer that corrugated boxes do not? What benefits do stretch and shrink wrap have to offer in regards to sustainability? I invite you to discover the answers to these questions and more, in the article below...
What is Stretch Film?
Stretch film (also known as stretch wrap) is a clear plastic film that expands when stretched and sticks to itself when wrapped around products or objects. It is commonly applied to pallets stacked with products or goods as a form of packaging used to ship said items across the country and the world at large.
It is either applied by hand via manual labor with a stretch wrap dispenser, or is applied via a stretch wrapping machine which applies the wrap in a far more efficient way. Depending upon the gauge (thickness) of the film used and the load containment variables, stretch wrap can be used to package virtually anything securely.
Wait, what is load containment?
What is Shrink Film?
Shrink film is a clear plastic film that forms to the shape of the product it is wrapped around when heat is applied to it's surface. It is commonly used to package foods such as frozen pizzas, pies and baked goods. Aside from food applications, shrink film is used to package everything from board games and books to toys and tools. There are literally millions of different types of products that shrink film can be used to package.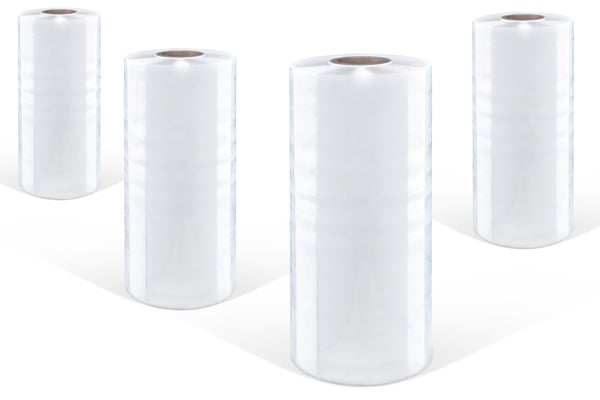 Types Of Shrink Film
The three main films/wraps used in shrink packaging material for protecting products for the retail and shipping environments are polyvinyl chloride (PVC), polyethylene (PE), and polyolefin (POF). Each option has a different set of capabilities and characteristics that make them perfect for various applications.
---
Not Sure Which Shrink Film Is Right For You?
---
Facts About PVC Shrink Wrap:
One of the most commonly used shrink films in the world
Potential difficulties with extreme hot and cold temperature changes
Higher resistance to tearing
Facts About POF Shrink Wrap
Premium quality, generally more expensive
Made of 100% recyclable plastics
Fantastic shelf appeal

and aesthetics

Durable, versatile, low cost
Excellent for bundling multiple items together
Facts About PE Shrink/Stretch Wrap
LDPE (Low Density Polyethylene)- low melting point, high stretch & strength dynamics
LLDPE (Linear Low-Density Polyethylene)

- thinner than LDPE, just as strong but with less clarity

More expensive but with superior durability.
Why Shrink And Stretch Film Over Corrugated Boxes?
Two words... Carbon. Emissions.
When used together, shrink and stretch films offer a vast improvement on green house gas emissions over corrugated boxes. Because the volume of material per square inch is heavier with corrugated cardboard, the resulting emissions related to the shipping of said material is higher than that of stretch and shrink films.
From PIA:

"Plastics are tough enough to withstand the stresses of transportation, yet capable of screening out even the smallest particle of dust," Carteaux said. "If plastics were not used for packaging, something else would be – and the obvious candidates are paper, cardboard, glass and metal."

Other types of packaging would require 64 million metric tons of material, increasing energy waste by 80 percent, according to the Franklin Associates, a Kansas-based research firm quoted in Market Watch. The result would be a 130 percent increase in the carbon footprint.

Therefore, polymers consistently substitute for other materials in packaging because of their weight, strength, design flexibility and low cost. The global polymer industry is expected to grow with a Compound Annual Growth Rate (CAGR) of 3.9 percent over 2015-2020. The demand for polymers is driven by growth in end use markets, like packaging, mainly from emerging economies."
At the end of the day, despite the various environmental issues with plastics, they are still vastly better for the environment than other common packaging materials. As the technology of plastic evolves, we expect to see the main stream emergence of bio-polymers in the plastic packaging industry in an attempt to remedy these issues.
Until then, shrink and stretch films remain a better choice for the environment when compared to corrugated cardboard, glass and other common packaging materials.
When taken into consideration with the significant cost savings, choosing these films over the other packaging materials mentioned above is a no-brainer. These films are the obvious choice for the discerning client with an eye towards sustainability and environmental protections.
When Is Corrugated Packaging Necessary?
While most of the time shrink and stretch films make more sense than corrugated cardboard boxes, there are some applications where they are a better fit or must be used in tandem with shrink and/or stretch films. For example, snack foods like chips, pretzels, candy etc. are often packaged inside stand up pouches or foil bags.
Items like these will require a cardboard box as attempting to shrink wrap a pile of bags or wrapping them on a loose pile would be a fools errand indeed... In these situations, the cardboard boxes are filled with the bags (or other oddly shaped or fragile containers) and then shrink wrapped (if in small boxes) then stacked on a pallet and wrapped with stretch film.
Of course, if you can eliminate the boxes and package your products without causing harm or complications to the products and the shipping of said items, eliminating unnecessary materials will save you both time and money.
Conclusion
In a world where every company is looking to cut costs in any way possible, you must ensure the maximum profitability of your own company. Choosing stretch and shrink films over corrugated boxes for the shipping of your products is a wise move in this respect.
And it is not just corrugated boxes either. Choosing shrink and stretch films over glass, metal and paper will also result in cost savings and a reduced carbon footprint for your business.
In 2019, there really is no better choice in packaging for your products when it comes to the financial and environmental aspects of these materials. The benefits they have to offer your packaging line simply make them the best option currently available.
And when it comes to recycling your used shrink and stretch films, there are a whole slew of companies across the US that offer recycling programs for these materials. You can simply have them pick up the waste once a month for a reasonable price.
If you do decide to go with stretch and shrink films for your packaging needs, you will want to be sure to buy from a reputable source with excellent customer service. It would do you well to research at least three or four potential vendors. It is also important to weigh the pros and cons of buying direct from an OEM versus purchasing from a distributor.
Either way, once you have made the switch to shrink and stretch films versus the other popular materials on the market, you can rest assured that you will be making positive changes for both your company and our planet earth.
About Nathan Dube
As the Digital Marketing Specialist at Industrial Packaging, I am honored to create content for such a phenomenal company and work with one of the greatest teams in the Packaging Industry. Whether creating a video, writing blog posts or generating other pieces of content and multimedia, I am always excited to help educate and inspire our prospects and clients to reach their highest potential in regards to their packaging processes and needs.