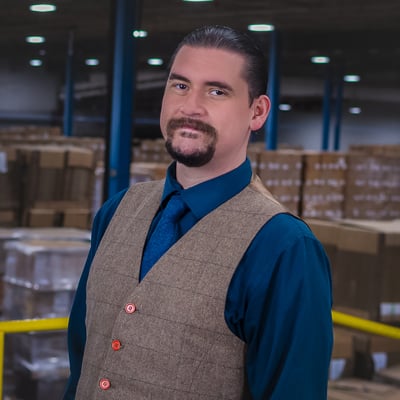 Hand Stretch Film Vs. Machine Stretch Wrap. What's The Difference?
If your business has a packaging line or a shipping department, you probably go through a lot of stretch wrap (also known as stretch film). If you are starting a new business and are preparing to build out your packaging line and a shipping department, you will be using stretch film when you are up and running.
One of the most common questions we get from start-up businesses, and even some seasoned veterans is, what is the difference between hand stretch film and machine stretch wrap?
If you are using exclusively human labor for stretch wrapping, you will need to use hand stretch wrap. If, on the other hand, you want to automate or semi-automate the process, you will need to run some form of stretch wrapper, which requires machine stretch film.
Industrial Packaging has helped thousands of clients identify the appropriate type of stretch film for their packaging and palletizing needs.
This article will explore the differences between hand stretch film and machine stretch wrap (also called machine stretch film) and help you choose the right option for your packaging line and palletizing operations.
What Is Stretch Film?
Stretch film (also commonly known as stretch wrap) is a very stretchy thin plastic sheet material used to wrap around products, boxes, and pallets. Elastic recovery, or rather the "stretch-ability" of stretch film, allows the film to contain the items it is wrapped around tightly.
The higher the percentage of elastic recovery, the better the film will contain the items. The purpose of stretch film is to palletize products by properly and safely containing them during shipping.
Hand Stretch Film
Hand stretch film was specifically made for wrapping to be done by implementing human labor. Commonly referred to only as "hand film," this type of stretch film cannot be used on a stretch wrap machine. It's made specifically for use with a stretch wrap dispenser (pictured below).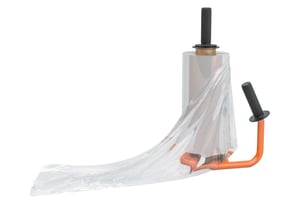 Manual stretch film can wrap many different types of products and stacks of goods on pallets. This type of film is a good choice if you are wrapping under 50 pallets per day.
---
How Much Money Could You Save With A Stretch Wrapper?
---
Machine Stretch Film
Machine stretch film is made to be used on a stretch wrapping machine. Machine stretch wrap is faster to apply than hand stretch, has a lower cost than hand film, is safer, and boasts better load containment.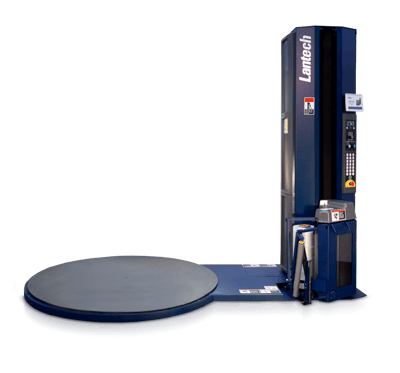 Now, while machine stretch film has a lot of benefits, the use of machine stretch film does require a stretch wrapping machine. A stretch wrapper can be a significant investment, and your budget may prevent you from purchasing a stretch wrapper, in which case you may have to use hand stretch film.
Types of Stretch Wrapping Machines
It should be noted that there are many different varieties of machine stretch film, all of which have specific applications of which they are designed. There are also many different types of stretch wrapping machines, each of which may or may not be able to utilize each type of machine stretch film.
For example, some types of stretch wrappers include:
Ring Stretch Wrapper

Turntable Stretch Wrapper

Straddle Stretch Wrapper

Orbital Stretch Wrapper

Ring Straddle Wrapper
You can learn more about each of the different types of stretch wrappers mentioned above by reading this article entitled: Packaging Machinery Buyer's Guide" Stretch Wrapping Machinery.
If you are not sure if you would benefit from upgrading to a stretch wrapper, then you may want to consider using this free stretch wrapper investment calculator to help you figure out if it would be a good investment for your business. This easy to use tool will help you find out if upgrading to a stretch wrapper could save you a lot of money over using manual labor.
Hand Stretch Or Machine Stretch Film, Which Is Right For You?
When you try to figure out which type of stretch film is the better choice for your business, you will have to answer a few questions to obtain the information required to answer this question. Some questions you need to ask yourself are:
What is your budget? Depending on the answer to this question, you may or may not be able to afford a stretch wrapping machine, in which case, you will need to use hand stretch wrap. A quality entry level stretch wrapper starts at around $6,000.
How many pallets are you wrapping? If you are wrapping less than 50 pallets a day, you will want to stick to hand wrap.
How many laborers are you using for stretch wrapping with hand wrap? Please note the amount of employees wrapping, their hours worked, and the number of pallets or items wrapped. Compare your costs from these items to the cost of switching to a stretch wrapping machine. Upgrading to a stretch wrapper may save you a lot of time and money.
Can you use machine wrap on a stretch wrap dispenser? NO. This could lead to injury and other problems.
Armed with the information in this blog post and the answers to these questions, you will be able to choose the appropriate stretch film for your needs. If you are still unsure about which type of film you should use or have questions about changing to a different kind of film, you may want to talk to one of our packaging experts.
They will advise you on whether hand stretch wrap or machine stretch wrap is the appropriate choice for your stretch wrapping needs. They will also help you identify the tools you will need for your chosen type of stretch film.
Even if you do not end up sourcing your stretch film from us, we can help you identify the best film for your needs and a good source to buy your films.
About Nathan Dube
As the Digital Marketing Specialist at Industrial Packaging, I am honored to create content for such a phenomenal company and work with one of the greatest teams in the Packaging Industry. Whether creating a video, writing blog posts or generating other pieces of content and multimedia, I am always excited to help educate and inspire our prospects and clients to reach their highest potential in regards to their packaging processes and needs.