Equipment | Packaging Psychology | Technical Service and Support
When you think about downtime, I bet a few things come to mind. Lost productivity, your workforce is standing around, scrap packaging materials or finished goods, and missing deadlines you have agreed to meet. And while all those are true, there are a few more negative side-effects that carry as much, if not more, weight when it comes to downtime. One of our top priorities is making sure our customers can avoid unexpected downtime on their packaging lines. At Industrial Packaging, we "eat out own dog food" and maintain regularly scheduled maintenance on our packaging machinery. By doing so, we can maintain the supply line for our customers, and we help them do the same in their facilities. We know what it takes to succeed, and we know how to combat unwanted downtime. In the article below, we will explore the real cost of downtime and explain why you will want to be sure to negate it.
Fulfillment | Plant Performance | Supply Chain Services/ Contract Packaging
One question that we are often asked by managers from other companies is, "How do I know when it's time to look for help or outsource some of my supply chain"? Sometimes these questions are from a start-up company that has been operating out of their basement. Other times the question comes from a large company that is toying with the idea of a large expansion. As a specialist in supply chain dynamics, Industrial Packaging is uniquely positioned to help you understand when and why you should work with a third party to run your supply chain. Even if you do not choose us as your third-party supply chain vendor, we can help you to understand the protocols for this process. In this article, we will give you advice on how to approach this project.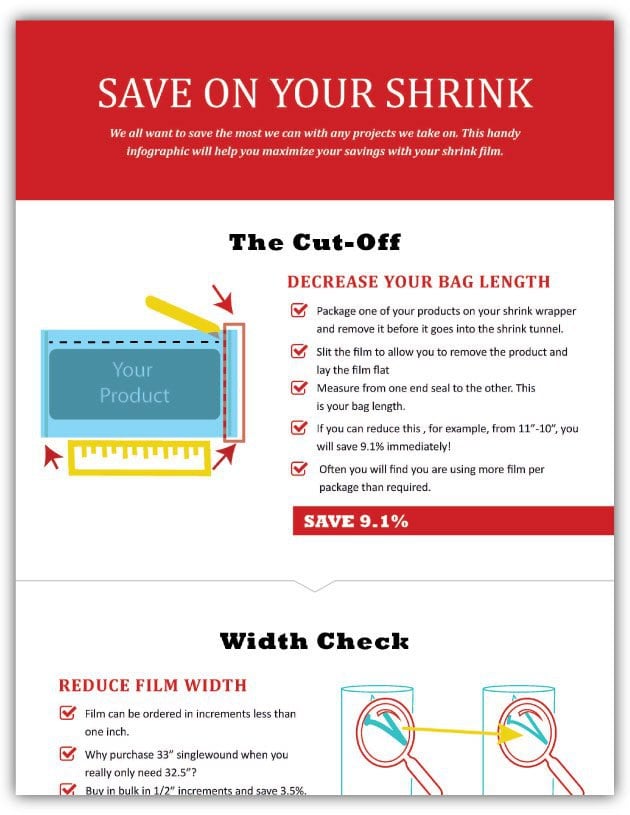 Shrink Film Cheat Sheet
We all want to save the most we can with any projects we take on. This handy infographic will help you maximize your savings with your shrink film. Get it for free when you subscribe to our blog.
Supply Chain Services/ Contract Packaging
We follow 8 simple steps when executing a Supply Chain project for our customers, and we start by reverse-engineering the process from end-user delivery to your timelines' demands. Here's how we keep our customer's on track, all the time:
Plant Performance | Supply Chain Services/ Contract Packaging
When you are working with a co-packer or outsourcing a portion of your production with a Supply Chain Services Provider like us, its important to know you are working with a safety-oriented, regulatory-compliant company. Here are some of the ways we ensure your product is safe throughout the supply chain in our hands.
Supply Chain Services/ Contract Packaging
We have all been to the Wal-Marts, Sam's Clubs, and Targets of the world, and as we walk down the wide aisles, there are 360-degree, walk-around displays, showcasing different products. They have facings and graphics on all four sides that and can be shopped from all four sides. These are point-of-purchase displays.
Plant Performance | Supply Chain Services/ Contract Packaging | Technical Service and Support | The Business of Packaging
Planning for Production can Provide Flexibility Scheduling production is always difficult. We have learned a few lessons on how to increase efficiencies. When we plan our production, we not only look week-to-week, but we look at specific days. Here are a few things we have learned: