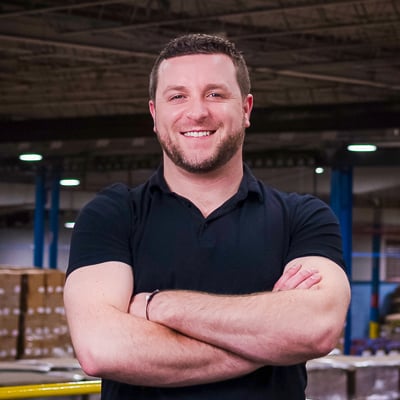 Contract Packaging: Beginner's Guide To Third-Party Logistics
The Business of Packaging | Supply Chain Services/ Contract Packaging | Plant Performance | Investment | Packaging Psychology | Fulfillment | Warehousing
As a business owner, you know that making sales is probably the most exciting part of your business. But what happens after the order is placed? Somehow your product needs to end up in your customer's hands. If you've been manufacturing, distributing, and selling for a while, you've probably thought about storage space, shipping, and fulfillment.
And, while you could do all of this stuff yourself, you may be able to save time and money by outsourcing these elements of your business to a contract packaging company.
For over two decades, Industrial Packaging has been managing warehousing and fulfillment as part of our contract packaging services for countless businesses.
This article will explore how outsourcing your warehousing and fulfillment responsibilities to a contract packaging company can benefit your business.
How Does A Business Owner Handle Third-Party Logistics?
When it comes to logistics like warehousing, storage, fulfillment, and all the other related dynamics of your supply chain. You have a few different options. You can either:
Sell a product from a drop-shipper who will fulfill orders for you.
Fulfill your orders, either independently or with a team.
Work with a contract packaging company that will handle your storage, production, and delivery.
Doing your own orders is flexible and cheap.
This works best for businesses that are just starting out or businesses with unique packaging needs where most third parties don't have the capabilities or technology to reproduce.
If your business is growing and you have the resources, a contract packaging partner can give you a lot of time back to focus on scaling your company and doing what you do best.
Why Use Contract Packaging To Outsource Warehousing And Fulfillment?
The obvious benefit of outsourcing is that you don't have to package or store anything yourself. Here are some more reasons:
Avoid long-term leases.
Many companies offer flexible pricing so that as you grow or as your industry seasons cycle, they adapt with you. Renting warehouse space usually requires a long-term commitment.
Paying month to month for the amount of space you actually use is much more efficient as your business scales. Why pay for empty space when your industry is off-peak?
You don't have to pay staff.
If you are shipping and fulfilling your own orders, you will likely need to hire additional staff or temporary labor to help out as you start getting more orders. Not only is this expensive, but managing more people is not what you want to be spending your time on. Let a third-party company worry about trained staff, receiving, and inventory management.
Make better use of your time.
You didn't start your company with packing boxes or packaging products in your skill set.
Let yourself focus on what you are good at and outsource what you can.
Focus on product sourcing, sales, and improving your in-house production or marketing.
You will save money.
Yes, doing things yourself is pretty much free; in terms of a long-term investment, your time is better spent elsewhere. A third-party company operates at a much larger scale than you may be able to, taking advantage of efficiencies only a larger operation benefits from.
They leverage combined shipping volumes that will bring down their costs. Additionally, you have the reliability of a potential fixed-cost partnership that will help you project your costs and remove many of the fluctuating prices you see when managing your projects in-house.
---
Are you interested in outsourcing your warehousing and fulfillment to a contract packaging company?
---
When Should You Work With A Contract Packaging Company?
When starting, most businesses will fulfill their own orders and gradually bring on a third party as needed. But when should you start? There's a large variety of companies that can fit any sized business, but here are a few signs it might be time to switch:
You see a pattern in uneven or cyclical sales.
Many industries are seasonal, so if you see your sales doing better or worse at certain times of the year, it doesn't make sense to commit to staff increases. A third party will be able to scale back operations as sales slow or promotions come to an end. If your business sees ebbs and flows, finding a partner can be a massive help for managing your space and your people.
You lack space or logistics.
It makes sense that as you grow, you physically might not be able to handle increased inventory without buying space. When you are struggling to find space to store products or packaging materials, let a third party take it for you. Companies like Industrial Packaging can manage your project from start to delivery to your end-user.
What Does Fulfillment Look Like?
Once you have your partner company, the entire project can be relatively easy! Your biggest concern at this point is making sure they have enough inventory to keep up with all of your orders. Most of the time, the orders can go directly to the third party, leaving you free to focus on growing your company.
Custom Packaging
Consumers make decisions to purchase not only on how the product provides for their needs but also on the visual appeal of a packaged product. Finding a third party that will (or has the ability to) work with your packaging design can be tough, but they do exist.
Companies that will work with you are experienced in dealing with various packages, so they may even help you save money on your packaging materials through their already-developed network of material suppliers.
How To Choose The Right Contract Packaging Company

1. Find a company in your industry.
The right fit is the most crucial part. Your business is different from everyone else's, and the same goes for 3PL and contract packaging companies.
2. Look for similar existing customers.
Don't be afraid to ask many questions and figure out how the company has worked with other businesses in your industry. Again many of these companies are very experienced, so a partner that has worked with similar companies can significantly help you propel your business forward.
What Third-Party Logistics With The Right Co-Packer Looks Like
Once you've found the right company to outsource your production with, there are a few things to look for to make sure you are getting the most out of the relationship.
Supply Chain Management
Your supply chain is the heart of your business. If your supply deliveries are well managed, you can accurately forecast inventory and keep the warehouse space optimized.
Shipping Efficiency
Sometimes you need to send multiple products or materials to the exact location. This is a situation where the whole can be lesser than the sum of the parts. For example, if you consolidate all the small goods into one shipment, the shipping charges could be substantially lowered. Consolidation services should be included!
Where Can You Learn More About Contract Packaging?
By now, it looks like we have piqued your interest in outsourcing your warehousing and fulfillment needs through a third-party contract packaging vendor. As such, you are probably curious to learn more about contract packaging and how it works.
If that is the case, we would suggest that you read What Is Contract Packaging And How Does It Work? This article will give you a deeper understanding of what contract packaging is and how these services can benefit your business.
With the information in this article, you will begin to see if contract packaging makes sense for your company.
About David Roberge
I am grateful for my 9 years as part of the outstanding Industrial Packaging team. I was able to hang out with some of the most knowledgeable folks in the packaging industry. I feel even luckier that I was able to share that knowledge with you. I love learning, hiking, and growing people and teams both personally and professionally, and helping companies grow better.