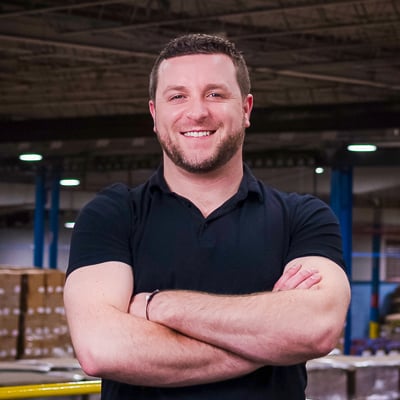 How To Choose The Best Label For Your Packaging
Packaging Materials | The Business of Packaging | Packaging Design | Food Packaging
When it comes to presentation, labeling your product packaging for the long haul of its lifecycle is no simple task; especially if you are not aware of the many options available and all of the items to take into consideration when choosing a label. We will provide you with some key factors to review when it's time to choose the best packaging label for your product.
The environment the product will be subjected to, the shape of the package, how it will be handled, and how the label will be applied, should all play a role as you're deciding on your selection. Also, remember to consider your warehouse capabilities, any regulatory requirements your product must adhere to, and your budget prior to making a decision on the best label for your packaging!
As mentioned throughout our blogs, your target market and how they buy should also hold some weight in your labeling decisions. After all, labeling coincides with your packaging as a critical marketing tool in any retail environment.
So, what are some of your options?
Shrink Sleeves
Shrink Sleeve labels are one of the most versatile forms of packaging labels on the market today. They have the ability to form perfectly around the product they encase and allow for a full, 360-degree area for your designers to work and display messaging and graphics around the entire item.
Shrink sleeves are great for boxes and beverages and also can be designed to cover the full product or a part of the product as needed; e.g., tamper bands for product security or a mid-sleeve for a beverage container.
Pressure-Sensitive Labels
Pressure-sensitive labels are very common for many applications in the foods and consumer goods markets due to their ease of application and variety. These labels can be cut into many shapes and sizes, and they also have a wide variety of textures and adhesives to meet the needs of the manufacturer. These are great for manual and automated applications, but they also have their nuances.
The surface that pressure-sensitive labels will be applied; be it corrugated, rigid, or flexible packaging materials, is a key component to deciding what type of adhesive should be used for longevity and durability. Different products may have specific regulations for labeling adhesives as well, so be sure to brush up on your compliance.
How you store your labels is important, too! For most adhesive labeling applications, it is recommended to keep them in a climate nearest 72 degrees and 50% humidity to get the most longevity out of them.
Dry-Peel Labeling
Dry-peel labels are easily removable from packages and are often used for coupons. They are placed on a package and will easily peel away to use at a register for an instantly redeemable point of purchase discount or for a repeat purchase at a later date.
These are great for keeping important information on the main label underneath the peel-away label and provide additional space for the packaging designer to design!
Reseal Booklets
With slight alteration, dry-peel labels can be utilized as expandable reseal booklets. These will use an adhesive that allow for the booklet to fold back into itself and seal back onto the package fully while staying easily accessible for future reference.
Adding the capability to use fold-out labels that provide additional information for the end-user that may not fit on the product or packaging it is applied to is excellent for situations where more information needs to be available but will not fit on the original label. These are often seen on pharmaceuticals and OTC medications to provide warnings and dosage information.
There are also labeling options that provide for easily re-sealable packaging for consumer convenience. These are great for items that will be opened and closed often and will aid in keeping the items inside fresh.
More Labeling Options
In addition to the labeling options mentioned, there are different ways to enhance their visual appeal and durability with materials and additives such as varnishes, gloss or matte finishes, and specialty die-cuts often used for branding purposes. With that being said, your options are varied. It is simply up to how you want your product displayed and how your product will be handled throughout its lifecycle.
Rules and Regulations
It also shouldn't go without mentioning that you should take into account any rules and regulations for your products regarding labeling. Certain types of consumer goods and food items have specific requirements set by industry and product by the FDA and FTC, for example. Be sure to check the regulations that are set by the country in which you will be bringing your products to market as well.
A prime example is covered in one of our blogs regarding the new FDA regulations that will be put into place over the next year (although it has been pushed off twice now, it is coming) regarding nutritional labeling for foods. The nutrition labeling regulations have remained unaltered for over 20 years and are going to impact all food manufacturers, so it's important to brush up on how they will impact your nutritional information now rather than later.
It's not only important to know your options and the rules you must abide by, but to work with a supplier that can provide you multiple options while understanding your product, your brand, and your goals.
Test your top labeling selections in different environments prior to making a decision to be sure that the label can handle all situations it may be placed in. Discuss your options with your labeling provider to be clear on the capabilities of different laminates and adhesives that will look great and last over the long-haul.
Want to learn more about protective packaging that will impact your labeling options? Check out our free eGuide: The Ultimate Guide To Protective Packaging!
About David Roberge
I am grateful for my 9 years as part of the outstanding Industrial Packaging team. I was able to hang out with some of the most knowledgeable folks in the packaging industry. I feel even luckier that I was able to share that knowledge with you. I love learning, hiking, and growing people and teams both personally and professionally, and helping companies grow better.