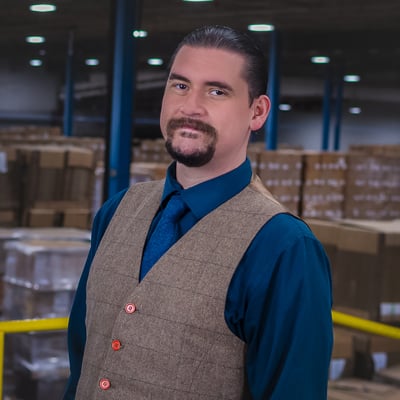 Light Gauge Printed Shrink Film
Packaging Materials | Environment | Packaging Design | Packaging Psychology
Printed shrink film is fast becoming a popular marketing material. With eye-catching full color graphics, strength, tight shrink and use in packaging applications negating the need for labels, it is becoming a common material on packaging lines across the globe. While there are various benefits to this particular substrate, there is another often less known type of printed shrink available today. Light gauge printed shrink film with thickness as low as 30 gauge has all the benefits of printed shrink, but with a lower gauge and price tag. Why choose printed shrink film? In the article below we will delve into this fantastic material and its many benefits.
What Is Light Gauge Printed Shrink Film?
Light gauge printed shrink film is (as the name applies) a lighter thickness of printed shrink film. Boasting all the benefits of regular printed shrink film, the one major added benefit from light gauge printed shrink film is that by utilizing less material, you get all the best elements of printed shrink but with a lower price point and environmental impact.
What Are The Pros Of Light Gauge Printed Shrink Film?
There are various reasons and benefits to using printed shrink film. From its environmentally friendly low carbon footprint to the stand-out visual appeal of the substrates various potentials in branding and retail, it has a slew of potential applications.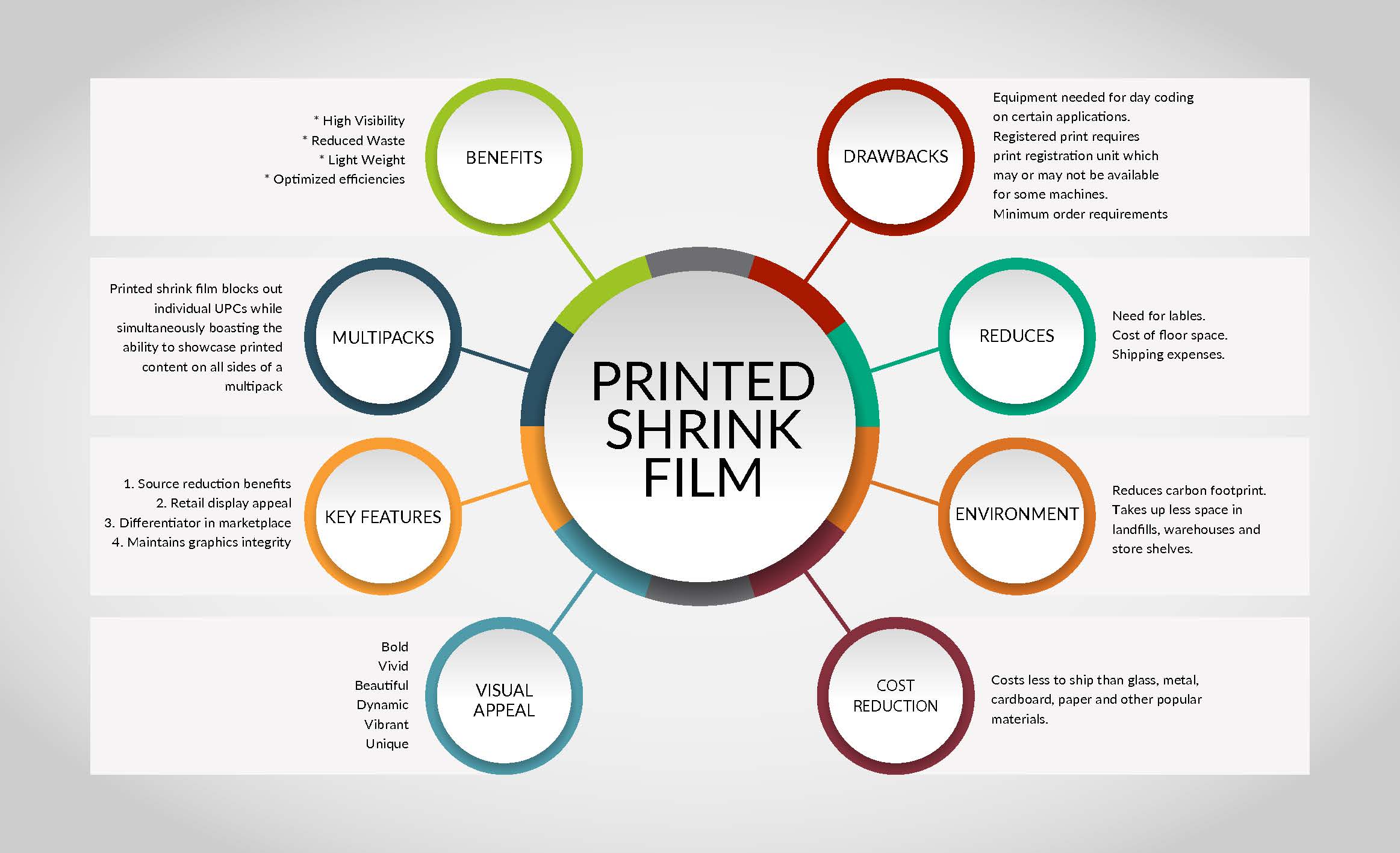 ---
Need Help Choosing The Right Kind Of Shrink Film?
---
Some of the major benefits of light gauge printed shrink film include:
When you have your products packaged in printed shrink film, they will most certainly stand out among your competitors products who utilize clear shrink film or other non-printed packaging materials. In our modern world where every brand is vying for the attention of the consumer, printed shrink film gives you an upper hand in shelf appeal over those who do not use eye catching graphics on their packaging materials.
Because of the ability to use high contrast full color imagery from the bold inks used in light gauge printed shrink film, products packaged with this material are far more visually pleasing than regular clear shrink films and other non printed packaging materials.
Blocks out individual UPCs
Low gauge printed shrink film is also useful for blocking out individual UPCs while showcasing printed content on all sides of a multipack. For some multipacks, it is often used to eliminate expensive and less sustainable options such as paperboard boxes. This makes for a more simplified packaging process and also provides a nicer looking multipack than those of which who use clear shrink film.
Unitization is the process of consolidation of several units into a single unit. It is made of a number of items or a bulky material and is constrained to be lifted and shifted because it is too bulky to be moved manually. Material handling cost decreases as the size of the unit increases.
Unitizing your multipacks has various benefits including:
Reduced handling expenses
For the most part, when a multipack has a higher quantity of products and a heavier weight, the cost of handling said items decreases. Unitizing your multipacks is a great way to limit the expense associated with handling.
Reduction in manual labor
When your packaging department utilizes loose boxes, it always results in a higher soft cost associated with the time spent on handling the products. Unitizing your multipacks will save you time and therefore money. This makes for a speedier and quicker flow of your products through your packaging line.
Shipping savings
With unitization, your products move to the transportation vehicles faster. This results in said vehicles spending less time at your loading dock. Again, time is money and this is another way to reduce wasted time. Unitization results in a streamlined flow of product throughout your line and onto you vehicles for shipping. This reduces the cost of unwarranted man hours that comes from lack of unitization.
With light gauge printed shrink film, every side of your multipack can boast beautiful full color graphics and imagery. This not only results in a sleek, uniform package but also allows for branding on all sides of the multipack providing an extra boost to the visual appeal of your product.
Print-ability on light gauge printed shrink film results in more footage per roll. This makes for fewer roll changes in production. This is yet another way that printed shrink film ensures a faster more streamlined packaging line with a reduction in wasted time.
As mentioned before, printed shrink film is one of the most environmentally friendly packaging materials on the face of the planet. With a carbon footprint of about 130% less than glass, metal and cardboard, it is a truly "green" product. Light gauge printed shrink film takes this one step further as lighter gauge films use less material in their manufacturing. This means even less space is taken up on our store shelves and in our landfills.
Another environmentally friendly aspect of this amazing material is that by using less material in the manufacturing of light gauge printed shrink film, the final product weighs less than traditional printed shrink film. This results in yet another reduction in the materials carbon footprint as it results in a lighter load during shipping.
Differentiation in marketplace
Light gauge printed shrink film gives your products a unique look and differentiates your offerings from your competitors. With the aforementioned multi-side printing capabilities of this film, your product will always be more engaging to potential customers. This means that you can rest assured that when a consumer reaches for the store shelf, they will be more likely to pick up your products instead of those without the same shelf appeal.
Maintains graphics integrity
The inks used in light gauge printed shrink film have an ultra long life span and vibrancy. This ensures that their visual appeal will not fade even month after month of display on store shelves. You can be sure that regardless of how long it takes for one of your multipacks to sell, it will still look as good as it did on day one.
What Are The Cons Of Light Gauge Printed Shrink Film?
As it is with all things, light gauge printed shrink film has it own drawbacks. For one thing, it has a higher price tag than clear shrink film. That being said, the costs are sometimes negated by other factors. Light gauge printed shrink film is a super premium product. As such, most companies offering light gauge printed shrink film have minimum order requirements.
The greater expense of this material versus clear shrink film may be a turn off for some companies. However, light gauge printed shrink film often removes the need for labels and may actually save you money in this respect. Based upon the application in which it is used, light gauge printed shrink may be a more affordable option for some packaging lines.
Light gauge printed shrink film does have a notable initial setup expense since printing plates are necessary for each design and this may also be true for certain label applications. Other adjustments or changes to your packaging machinery may also be required.
As a super premium product, light gauge printed shrink film may be best for companies who package a larger volume of products. Companies with smaller applications might be better off utilizing clear shrink films. If this is true for your particular packaging line, you should consider using printed labels for the required information rather than light gauge printed shrink film.
About Nathan Dube
As the Digital Marketing Specialist at Industrial Packaging, I am honored to create content for such a phenomenal company and work with one of the greatest teams in the Packaging Industry. Whether creating a video, writing blog posts or generating other pieces of content and multimedia, I am always excited to help educate and inspire our prospects and clients to reach their highest potential in regards to their packaging processes and needs.