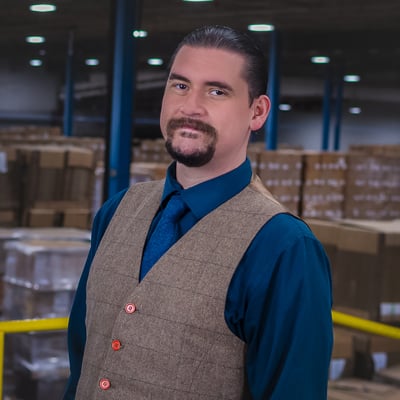 The Top 5 Episodes Of The Industrial Packaging Podcast
I am super excited to present the top 5 episodes of the Industrial Packaging Podcast to you! But, before we get started, I have to ask, did you even know we have a podcast?
After perusing our social media follower count, I have concluded that some of you (our beloved blog subscribers) don't even know we have a podcast!
And, if you are not already subscribed to our YouTube channel, you are missing out on the best content in the packaging industry!
While our YouTube channel features other amazing content such as our cartoon edutainment show, company culture videos, product explorations, and some hilarious videos, some of our most popular videos are, in fact, the podcast.
And, what better way to explore the Industrial Packaging Podcast than by reviewing the most popular episodes all in one spot?
After reading this article, you will have a good idea of what the show is all about and how the content can help you to make better packaging purchasing decisions.
What Are The Top 5 Industrial Packaging Podcast Videos?
The items below are some of the most-watched episodes of the industrial packaging podcast, which span a unique set of packaging-related materials, machinery, and topics.
As the podcast host, it is my mission to be both entertaining and educational. And, from the feedback we have received about our podcast, it seems that I am on the right track!
So, grab a beverage and some popcorn, kick back, and get ready to listen to the top five podcasts on our YouTube channel.
1. E
pisode 1: Shrink Film
Shrink film is one of the most popular and sought-after products we sell here at Industrial Packaging. Shrink film has an ultra-low carbon footprint, makes your products look beautiful on store shelves, and has a lower price point than many rigid packaging materials.
So, it was no surprise that this episode is the number one most-watched episode of the Industrial Packaging Podcast.
I really hope you enjoy the show. And, if you do, please consider subscribing to our YouTube Channel. By doing so, you will get updates whenever we post a new episode or other video content!
2.
Episode 11: Modified Atmosphere Packaging
Modified Atmosphere Packaging is a hot topic these days. In addition to being the number two episode of our podcast, it is also the fifth most popular blog article.
Modified Atmosphere Packaging (more commonly known as MAP) has exploded in popularity over the past five years or so.

This is primarily because it increases the shelf life of foods like beef, pork, and chicken, all while making the products more aesthetically pleasing to the consumer.
What's not to like?
---
How much money can you save with automated stretch wrapping machinery?
---
3.
Episode 2: Stretch Film
Stretch film is a product that is commonly confused with shrink film. Still, they are two completely different materials made for very different applications.
With that being said, stretch film is still one of the most popular packaging materials globally. That is for a good reason.
Stretch film is perfect for producing superior load containment and palletization before shipping your products. You can apply stretch film by hand, or use it with an automatic stretch wrapper.
While this is the most famous podcast episode that we have on this type of material, I want to point out that we have a lesser-known episode that provides the secret to cutting your stretch wrap costs by up to 50%. Check it out below!

4. Episode 25: The Different Types of Packaging Materials
Coming in at number four, we have The Different Types Of Packaging Materials. There are many packaging materials to choose from. This is a good starting point for new businesses just getting into packaging their products or companies looking to change the types of materials they use.
You may find this episode enlightening in regards to packaging materials that perhaps you were not aware of prior.
5.
Episode 29: Biodegradable Shrink Film VS Plastic Shrink Film
Sustainable packaging has been one of the hottest trends in packaging for at least the past five years. And the popularity of these materials is only growing as time goes on.
Suppose you are new to product packaging and are looking for earth-friendly packaging materials options. In that case, this is a fantastic place to start.
Are you a company that has been packaging products for a long time and are looking to upgrade to more sustainable packaging materials? In that case, you will also find this episode an engaging listen.
Where Can You Find More Great Packaging Information Like This?
Would you like to listen to more educational podcasts? Are you seeking information about the different types of packaging materials, machinery, and related dynamics? Do you like funny videos?
If you answered yes to any of the questions above, please consider visiting our learning center today!
There you will find a ton of great podcasts and other video content about different packaging machinery, materials, and topics!
About Nathan Dube
As the Digital Marketing Specialist at Industrial Packaging, I am honored to create content for such a phenomenal company and work with one of the greatest teams in the Packaging Industry. Whether creating a video, writing blog posts or generating other pieces of content and multimedia, I am always excited to help educate and inspire our prospects and clients to reach their highest potential in regards to their packaging processes and needs.