Subscribe
What Are The Different Types Of Packaging Materials?
Packaging Materials | Packaging Design
When first entering into the world of packaging for your products, there are many items to consider and educate yourself about. One of the essential things to consider during this time is packaging materials.
When you are looking to package a product, you need to decide which type of material you will package your products in. But what material should you choose? Plastic, metal, cardboard, paperboard, foil, shrink film, bio-plastics, boxes, clamshells, or something else?
When diving into the vast realm of packaging materials, one of the first things you need to understand is what's available to you.
Once you have explored your options, then you can choose the best material(s) for your packaging needs. In order to do this, you need to understand which materials are appropriate for your applications.
Well, as luck would have it, Industrial Packaging has been selling, running, and consulting on packaging materials for generations. We know the realm of packaging materials inside and out. We can help you identify the packaging materials that are currently available and which one is right for you and your products.
This article will show you the most popular types of packaging materials currently on the market. We will help you understand each option so that you can make an educated decision on which material would be best suited for your product's packaging.
Each type of material mentioned below is linked to a more in-depth article that offers a deeper exploration of that particular type of material.

We're going to dive into each of the different types of packaging materials below. Each section will detail what the packaging material is made out of and when it's best to use.
Below you will find a list of different types of packaging materials. Each material will be explored in regard to what they are made out of. Each offering will also have information about the materials appropriate applications.
Corrugated Boxes
Corrugated boxes are a staple of the packaging industry. For generations, corrugated boxes have been a go-to packaging product used to package hundreds of thousands, perhaps even millions, of products on packaging lines worldwide.
Corrugated boxes are often purchased pre-formed into the traditional square or rectangular box shape. Then again, they may arrive in flat stacks, in which case, the boxes must be put together by hand.
Corrugated boxes are often used for packaging applications in tandem with case erectors. Case erectors are a type of packaging machinery that involves human labor and automated processes to form, fill, and seal the boxes in preparation for shipping.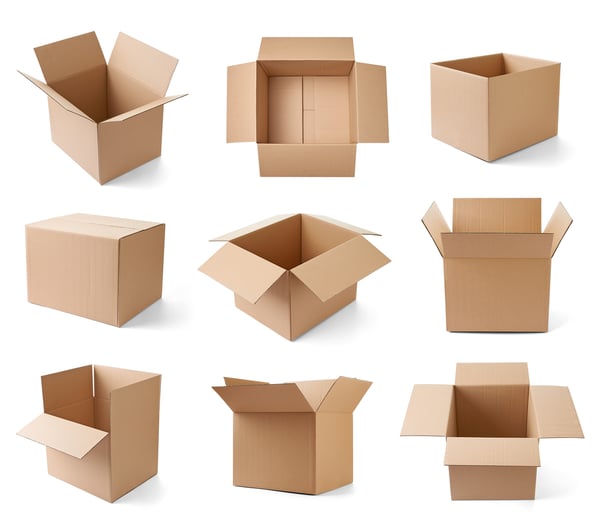 Corrugated boxes are made from (you guessed it) corrugated cardboard.
Corrugated cardboard is a packaging material made out of a corrugated sheet of fiberboard that has been fluted. Generally speaking, corrugated cardboard is made from one or multiple boards of flat fiberboard. Corrugated cardboard is created via a process called fluted lamination (AKA: corrugation).
Corrugated cardboard is sometimes referred to as corrugated fiberboard as cardboard can technically be any heavy-duty paper-pulp based boarding material.
Items commonly packaged in corrugated boxes include items such as: electronics, DVDs, consumer goods and pre-packaged food items like cereal, chips and cookies. If you want to learn more about corrugated boxes, please visit our learning center.
Stretch Film
Stretch film is one of the most common packaging materials in the world. Companies that have a shipping department with a warehouse are almost always using stretch film to contain their products on pallets before shipping.
This is done to protect products from collapse or damage during the shipping process. Stretch film achieves this goal with what is called "load containment."
Load containment makes it so that your shipment can be tightly held in place so it can be transported safely. To get the highest load containment possible, you will need to understand the different types of loads.
Load containment is achieved with stretch film by one of two means. The film is applied to the pallet or load with human labor via a tool called a stretch film dispenser, or it is applied with a manual, semi-automatic, or fully automatic stretch wrap machine.
There are various types of stretch wrap material currently available. Each one is made for specific applications which are meant for either hand or machine stretch applications. These types of film include:
Machine Stretch

Cast Stretch

Blown Stretch

Pre-Stretch

Hay Baling Stretch
Hand Stretch

Color Stretch

UVI Stretch

VCI Stretch

Vented Stretch

Reinforced Stretch

No Cling Stretch
Each of the above formulations of film is designed for specific applications and should be used for the specified applications suggested. Using the wrong type of stretch film for the incorrect application may result in inadequate load containment, safety issues, and poorly wrapped pallets.
Stretch film is commonly used for the packaging and unitizing of multi-packs such as toilet paper, paper towels and bottled water. You can learn more about stretch film in our learning center!
---
Need Help Designing Your Packaging?
---
Shrink Film
Shrink film is used on millions of packaging lines in companies all over the world. It is one of the most popular types of packaging materials currently on the market. It is used to package a mind-boggling array of products.
There are different types of shrink film formulations. Still, the most common formulations are polyvinyl chloride (PVC), polyethylene (PE), and polyolefin (POF). Each formulation is designed for specific applications. For example, polyolefin is the best shrink film to wrap food with.
Using the wrong formulation of shrink film for the wrong products can result in poor packaging, safety hazards, and machinery problems.
Shrink film is used for packaging products in tandem with shrink tunnels and sealers. These are two types of packaging machinery that are required for running shrink film on your packaging line. The product is first run through the sealer, which places the product in a bag made of shrink film.
Each side of the bag is then sealed with heat. The product moves down the line into the shrink tunnel (also known as a heat tunnel). From there, the shrink film bag contracts uniformly around the product contained within.
Shrink film is commonly used to packaged items such as board games, frozen pizza boxes, and small consumer goods. If you want to learn more about shrink film, check out our learning center for more information.
Bundling Film
Bundling film is a type of shrink film. The formation of multi-packs (also known as shrink bundling) is the act of creating one or multiple packs (also known as bundles) out of various products or items. A multi-pack can include items that are free-standing or sitting on top of a platform or sheet of material.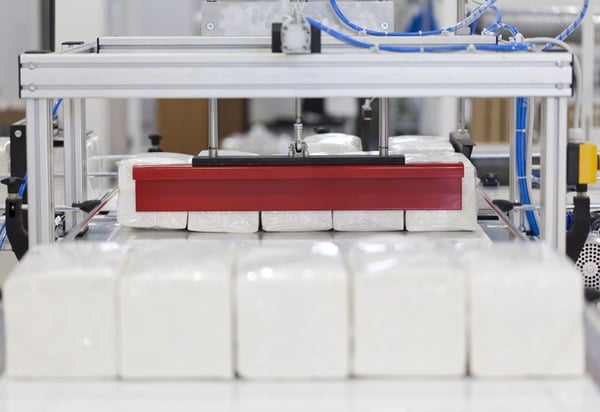 Next, the bundle is cloaked inside shrink film (most commonly LDPE) and moved through a heat tunnel. The bundle is then packed together by the shrinking of the film, which holds the bundle together. Items that are packaged like this include products such as packs of water bottles or boxes of tissues.
Bundling films are one of a few types of shrink films that are specifically used to create multi-packs and other types of bundled packages.
Shrink Bands
Shrink bands (also known as seal bands) are a kind of protective packaging and tamper-evident packaging that is perforated for ease of use. Shrink bands are pre-made to fit the cap of different types of items, including but not limited to: bottles, jars, liquid-droppers, and other similar products.
So how is a shrink band applied? A ring that is made out of soft plastic is put on the cap of the container that needs to be sealed. Next, heat is used to make the ring shrink in a uniform way around the lid. This heat can be applied by a heat gun, shrink tunnel, or steam tunnel.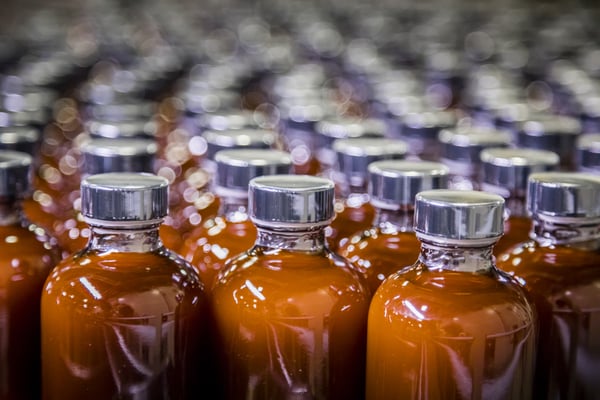 Shrink bands, just like many other tamper-evident packaging materials, will let the consumer know if their product has been exposed to damage or tampering. Shrink bands alert the consumer to compromised products and protects them from consuming unsafe items.
Shrink bands provide extra strength for the seal of the product cap. This ensures that the overall seal of the product is enhanced with additional protective qualities.
Flexible Pouches
Flexible pouches are foil or plastic bags. They are utilized in packaging applications for various uses, including snack food packaging and industrial liquid packaging. They can be found on shelves in supermarkets practically everywhere.
Flexible pouches have become extremely popular over the past few years for food packaging. This is mostly due to the fact that most of these pouches are resealable, have a low environmental impact, and are less costly to produce than alternative packaging materials such as glass, paperboard, metal, and cardboard containers.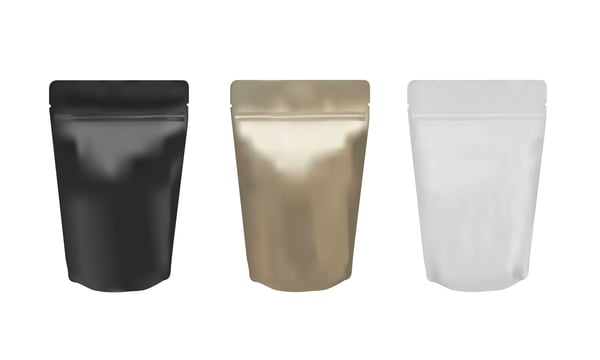 Flexible pouches are commonly used for packaging thousands of products, including but not limited to granola, energy drinks, coffee, soups, snacks, nuts, and many other types of food products.
Flexible pouches have recently been adopted by the industrial hemp and legal cannabis markets as packaging for cannabis and hemp products such as gummies, whole flower hemp, and other edible products.
How To Choose The Proper Packaging Materials
The items above represent some of the most popular packaging materials but is not a full representation of all available materials. When it comes to choosing the right packaging materials for your products, you will want to do some research on several different types of materials before making a final decision.
If you would like to explore other packaging material options, consider visiting our learning center, which is packed with content about many different types of packaging materials.
However, you may prefer to get some professional guidance in choosing the right packaging materials for your products. In that case, you will want to consider speaking to one of our packaging experts. They will be able to help you choose the right packaging materials and vendor, even if that vendor is not ultimately us.