Environment | Packaging Materials
Sustainability is no longer the future for packaging. It's officially the present state and the foreseeable future in package design and corporate responsibility. Sustainable packaging is not only a better option for the environment, but a great investment; especially for brands that are actively pursuing a positive image in the eyes of the consumer. The main impediment to its speed to growth in the packaging market has been the higher cost that comes along with it, but that's changing. Deciding how to design for sustainability may seem difficult and costly, but it is a worthwhile endeavor that will not only become mandatory in the next decade, but also provide major benefits to brands that adopt it in some form, sooner rather than later.
Equipment | Food Packaging | Packaging Materials | Plant Performance | Technical Service and Support | The Business of Packaging
Shrink wrapping is an easy process that only requires two things: the right kind of plastic wrap and heat. With just a roll of shrink wrap and a heating source, you can waterproof, weatherproof and tamper proof just about anything you have. Since there is no restriction on size to shrink wrap items, you have a way to protect even your bulkiest of items. But even this great packaging solution has a few potential hiccups.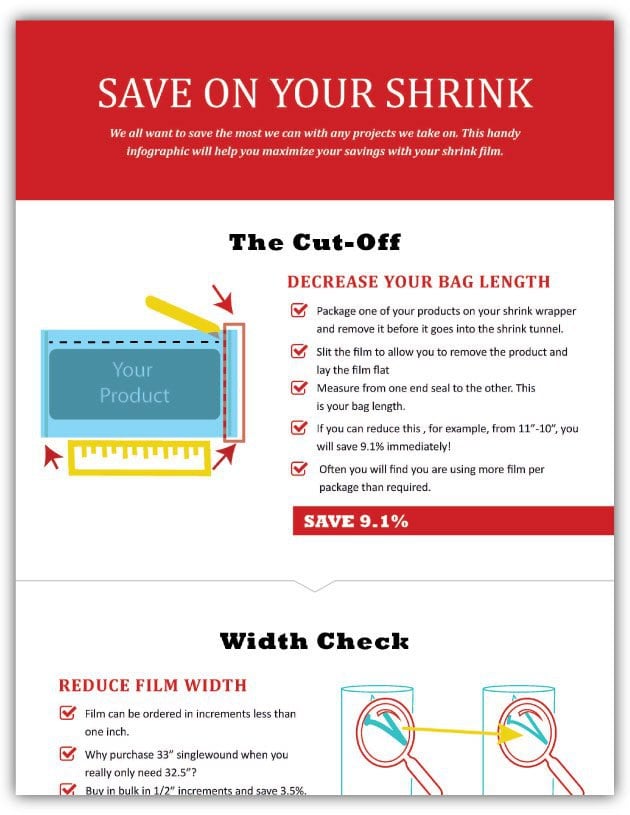 Shrink Film Cheat Sheet
We all want to save the most we can with any projects we take on. This handy infographic will help you maximize your savings with your shrink film. Get it for free when you subscribe to our blog.
Investment | Packaging Materials
The three main wraps used in shrink packaging material for protecting and securing products for the retail and shipping environments are polyvinyl chloride (PVC), polyethylene (PE), and polyolefin (POF). Each have different capabilities and characteristics that make them suitable for specific applications. What are the main differences between these types of shrink wrap? Which is the best choice for your packaging needs? Read on to find out!
Food Packaging | Investment | Packaging Materials | Shipping Protection | The Business of Packaging
Tamper-evident packaging (TEP) provides many benefits to brands and businesses in any industry, the most evident being security. If you are in pharmaceuticals, tamper-evident packaging is a requirement, in others it provides security throughout the supply chain and purchase by the consumer. It's important to understand what TEP is, how it can benefit your business and the differences between tamper-evident and tamper-resistant packaging (TRP). With tamper-evidence, its also important to think of the consumer when selecting your packaging materials for product security.
Food Packaging | Packaging Materials | Packaging Psychology | The Business of Packaging
Color psychology plays a big role in advertising and retail sales. Package color has a notable effect on consumers and can turn them on to your product or chase them away. Depending on the demographics of your target market, the colors you choose to employ on you packaging can make or break the success of a product. While color psychology is not exactly magic, it can have an almost metaphysical effect on your customer base. Choosing the right colors to invoke the right emotions is a tightrope act that when done correctly, can produce amazing results. But which colors are right for your packaging?
Environment | Equipment | Investment | Packaging Design | Packaging Materials | Packaging Psychology | Plant Performance | The Business of Packaging
Given the entire purpose of packaging, the idea of "zero waste" may seem counter-intuitive. How can you package anything without inevitably causing some leftover waste? Turns out, zero waste packaging is being hotly discussed in the manufacturing space, with many companies committing to reducing or eliminating waste — and many consumers actively seeking these options. To break it down, zero waste packaging takes things one step further than sustainable packaging. If this is new to you, read on to learn all about this trend, what it involves, and how it could affect your operations.