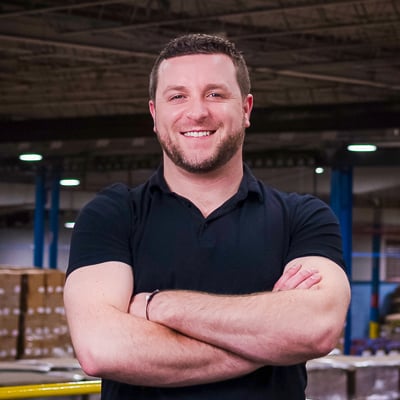 Take Your Packaging to the Next Level with Augmented Reality
Packaging Materials | The Business of Packaging | Investment | Packaging Design | Food Packaging | Packaging Psychology
Augmented Reality, known as AR, is a concept where we use technology to superimpose virtual information on to the world that we see. Gaming is one popular application of this technology. Did you know that product packaging is another?
In fact, augmented reality has incredibly useful applications in the packaging industry. This fascinating technology can be used to enhance product packaging, improve brand loyalty, attract new customers, and stand out from competitors. The best part? Often, all you need is a QR code or a bit of minor tweaking to your package design.

The Different Forms of AR
Augmented reality-specific hardware can be very expensive, but most augmented reality technology is being consumed through our smartphones, making it extremely accessible.
Google and Apple have both supported software platforms in the form of ARKit and ARCore, respectively. This makes it easier for developers to create augmented reality content for smartphones, and for smartphones to support it. This, in turn, makes it easier for consumers to use the technology as well.
When it comes to packaging, different brands have introduced AR to maintain or even create a new link with consumers via their smartphones.
---
Don't forget to consult our free Packaging Efficiency Cheat Sheet for ideas on ways to optimize your packaging design process!
---
Advantages of Augmented Reality
There are several notable advantages to augmented reality when it comes to packaging. In particular, this technology can help attract and keep new customers who are happy with the ease in which they can access information about different brands and products.
Adding a Virtual Element to Your Packaging
With traditional packaging, customers are limited to the information they can glean from the packaging itself, which means that companies are limited to what information they can choose to share.
With augmented reality, customers can add elements to packaging that can't be seen with the first look. Additional facts, nutrition information, art, company contact information, even trivia can be shared via augmented reality through a simple QR code.
Improve Brand Loyalty
Brand loyalty is a critical part of marketing success. Using augmented reality to present products and packaging in an exciting and positive way is helping customers engage with products and build brand loyalty.
After all, the probability of selling to an existing happy customer is up to 14 times higher than the probability of selling to a new customer.
One example of augmented reality-enhanced product packaging is with 19 Crimes Wine. They added AR capabilities to their wine bottles to share more of the story that the wine company is based on.
The name of the business – 19 Crimes – refers to British prisoners sent to Australia in the 18th century. Scan the QR code and learn their stories, ostensibly while enjoying a glass of wine.
One would hope that customers would then associate this enjoyable story-telling experience with the wine, and keep coming back for more.
Attract More Customers
Isn't attracting more customers the name of the game with product packaging? Ultimately, the goal is to sell product, so any innovations that help to do that are a win for customers. Adding augmented reality to the label can attract even more customers who want to explore what your brand has to offer.
After all, as many as 86% of consumers are willing to pay more for a better experience.
Stand Alone From Competitors
As important as it is to attract more customers, businesses need to be mindful of standing out from the competition, as well. Since augmented reality is fairly new, taking advantage of this technology now will allow you to have a competitive advantage.
The options are endless with how you have AR perform for your brand. A great way to improve brand loyalty may be sharing your products lifecycle with the consumer. Let them know exactly where their free-range eggs or dairy products are coming from, what cows and how those cows are treated, as an example.
You can provide transparency to your both current and possible consumers without taking up additional label space!
Adding Augmented Reality is Easy
The best part about all of this? Creating this innovative and immersive experience couldn't be easier. Any label can be augmented slightly (practically invisibly) to automatically direct a consumer to any piece of content you desire to add to the brand messaging.
Most of the work comes on the back-end, with developing the app that allows the user to scan the QR code and enjoy the augmented reality experience.
Even better, many companies are making it even easier to scan QR codes. [Note: this site has a paywall]
How to Use AR for Your Packaging
As easy as it is to add augmented reality to existing package design, there are some important factors to consider when adding this feature to your products.
Extend Your Real Estate
There is a finite amount of space on each package, which limits the amount of information you can share with consumers. By adding a small QR code, you can leverage that space with augmented reality to provide more consumer information, thus expanding the reach and impact of your package design without adversely impacting the design.
Augmented reality allows designers and marketers to expand their canvas beyond the physical object and provide information elsewhere when using a virtual lens such as your smartphone.
A great example of this is how W-in-a-Box used AR to further explain the benefits of drinking their water. Using augmented reality allowed them to expand their canvas to share more information and have their consumers interact with the product in a unique way.
Product Visualization
Perhaps one of the most unique advantages of augmented reality with package design is that your consumers are no longer restricted to static images and text. You can use the QR code to show consumers how your product looks in a realistic environment and have them interact with your product.
This virtual interaction can help consumers understand your product better. Augmented reality can also help portray the value of the product, how to actually use it, how it is assembled and used, and how it functions.
Some brands have already taken advantage of amazing ways you can add augmented reality to packaging. Nespresso has added a section to their packaging that plays a video once you hover over it's label with your phone. Nespresso uses this opportunity to show what the product looks like when ready for consumption, and how the machine can be used.
Update Your AR Content Without Having to Repackage Everything
One exceptional advantage to using augmented reality is that, since the augmented reality content is virtual, you are also able to update and change the content without having to recreate the packaging. This helps prevent packaging from becoming outdated. Instead, you can easily update messaging, promotions, and any other type of content just like you would update your website, for example.
Increase Brand Engagement with Interactive Content
One of the most effective ways brands have been leveraging augmented reality on their packages is to increase engagement with the product and brand. With a simple QR code, they are able to create immersive experiences that are contextually relevant to the product, and to the current promotion or campaign.
Brands have created mini games that earn you promotions, scanning custom codes to unlock objects, or even creating a 3D model of the product allowing you to interact with it. The possibilities for creating brand engagement and excitement are truly endless.
How Will Augmented Reality Work for You?
Augmented reality sounds like it belongs in a sci-fi movie, when it actually has many practical applications in the real world. From interactive soda bottles to holiday games to history lessons, the possibilities for incorporating augmented reality into your product packaging are endless.
While the technology is pretty amazing, the real benefit to using augmented reality lies in efficiency. The more efficient you are with your packaging, the more you can build on existing customer relationships and create new ones. If you want to talk with a pro about the possibilities with our product packaging, let's start a conversation!
Be sure to check out our free Packaging Efficiency Cheat sheet to discover the most important decisions to make with package design, what tools you should be using, and what aspects to consider when designing and developing new packaging.
About David Roberge
I am grateful for my 9 years as part of the outstanding Industrial Packaging team. I was able to hang out with some of the most knowledgeable folks in the packaging industry. I feel even luckier that I was able to share that knowledge with you. I love learning, hiking, and growing people and teams both personally and professionally, and helping companies grow better.