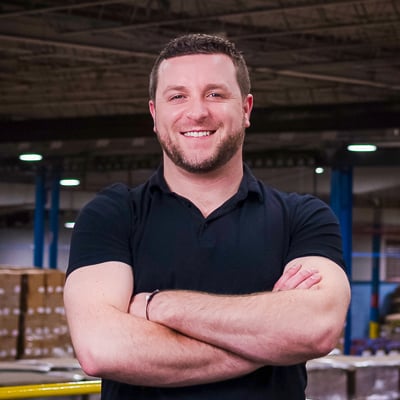 How To Crush Your Next Retail Point-of-Purchase Display Project
The Business of Packaging | Supply Chain Services/ Contract Packaging | Investment
Catching the eye of a consumer in a retail environment can be quite a challenge, but imagine if you could stand up, and out, from the competition?
With an in-store off the shelf stand-alone point-of-purchase display you can get your product in front of the right people before the competition even has a chance to dazzle them with their extravagant packaging design. Keep reading to learn more about point-of-purchase (POP) displays and how they can help you to smash your next marketing campaign.
What Is A Point-Of-Purchase Display?
You may not even realize it, but you have most-likely grabbed something off a point of purchase display in the front of a grocery store, and that fact that you didn't notice it is the beauty of a POP display.
Also known as stand-alone displays, they act as a unique marketing tool that you can count on for retail visibility for your product and your brand before the consumer makes it to the register. They can be a great way to gain new consumers that may have overlooked your products in the aisle. A retail point-of-purchase display is generally a stand-alone 1/4 or full pallet-sized, corrugated shelving unit that is designed for displaying your products with easy access off-the-shelf.
These displays can be as simplistic or elaborate as you would like, with colors, images and graphics that speak to the target market, and can include attached signage that further promotes the products. The displays can be placed in strategic spots in retail outlets and grocery stores and are designed to allow your product stand out from the competition on the store shelves. You can set up a stand alone display right in the front of the store, at the end of an aisle (an end-cap display) or right in an aisle; depending on your product, the requirements of your retailers and the relationships you build with them.
What Are The Best Uses For A POP Display?
New Products: No matter what merchandise or product you are offering to the consumer, showing off your products on a pop display will help consumers find your products easily. These are marketing tools that can help you gain retail visibility over your competition on the shelf and can help to promote new products or new promotions.
Combo Packs: If you have a product that complements another, you can count on a retail display to easily promote multiple products either bundled together into a multi-pack or separated on the display. For example, when spring and summer seasons roll around, so do barbecues and picnics. Having ketchup and mustard combo packs on a display in the center of the condiment aisle or towards the front of the store allow for a quick purchase on the way to the cashier.
Seasonal Promotions: Speaking of the combo packs mentioned above, seasonal promotions are a great example for capitalizing on the best-use of stand-alone displays . A retail stand-alone display for holiday items displaying different types of candies or other holiday items together is a great way to impact consumer purchase decisions, brand recognition and impulse buys.
What Are The Benefits Of A POP Display?
Visibility: Your products are the star of the show with a point-of-purchase display. Not only does this help you with being found by your repeat buyers, but it helps you stand apart from the similar products you are competing against on the shelf.
Impulse Purchases: stand-alone displays are a great way to spur impulse buys as consumers move around the store to grab the items on their grocery lists. A well-designed, targeted display will drive consumers to purchase your item on the fly as they make their way to checkout. According to a study done by POPAI in 2014 that interviewed nearly 3,000 randomly-selected shoppers, 82% of shoppers made decisions to purchase a product in-store vs planning to purchase ahead of time. Showcasing your product in a retail display is ideal for capturing these purchases.
Highlighting Products: With a stand-alone POP display you have more space to describe the benefits of your product over competition. What makes your items ideal for the consumer? Use the sides of the display and additional signage to complement the product and your brand to drive consumer purchasing decisions in-store.
Helping Your Retailer: Your display can actively be a salesperson for your products. When a retail outlet is busy, an in-store may be juggling several customers with many questions. Creating an easy-to-use, informative display can help ease the burden on the limited staff and drive decisions to purchase without the need for in-store assistance.
How Can I Crush My Next Display Project?
Understand Your Target Market: What is the reason your target market is going to purchase your product over competition? Understanding your buyers' wants and needs is integral to designing a display that speaks their language and meets their needs. Its important to know when they would be most likely to buy as well so you can promote on their schedule. Whether your looking to promote a seasonal or holiday product, understanding where your target market shops and what impacts their buying habits can help you design a successful display and promotional campaign. Hot-pinks and bright neon colors may not be appropriate for different products. Be selective in the colors you choose to use in your display design.
Use the available space: There are many sizes and types of displays available to market your products apart from the shelf competition. Select the ideal display for your product and use the available space on it to promote your product and your brand! On pallet and 1/4 pallet displays, you have multiple sides that you can apply high-quality graphics and print on, and in most cases additional space to add signage and further promotional space. Don't miss an opportunity to catch the consumer's eye with appropriate messaging and graphics!
Utilize Your Retailer/Distributor Relationships: Work with your retailer to identify the best placement and timing to launch your display project for optimal sales. The better you work together, the more you can target and get the best spot on the floor for your goods. Co-promoting with a retailer can benefit both of your businesses.
Work with a Contract Packager: Display build projects can be difficult if not properly planned and executed. They will take time to plan and design, space in your facility to create, fill and store, a diligent and trained labor force, planning for shipping and distribution to the outlets they will be placed in, etc.. Many of these items can be taken off your hands by outsourcing your display build with a quality contract packager. Work with a professional to plan your project and implement a flawless promotional display project. Some co-packer's can take the entire project on in their facility and supply the labor and shipping to create, fill, and ship to their respective destinations, and can help with connecting with the suppliers of the displays and more.
Learn how to optimize your packaging more efficiently with our free cheat sheet!
About David Roberge
I am grateful for my 9 years as part of the outstanding Industrial Packaging team. I was able to hang out with some of the most knowledgeable folks in the packaging industry. I feel even luckier that I was able to share that knowledge with you. I love learning, hiking, and growing people and teams both personally and professionally, and helping companies grow better.