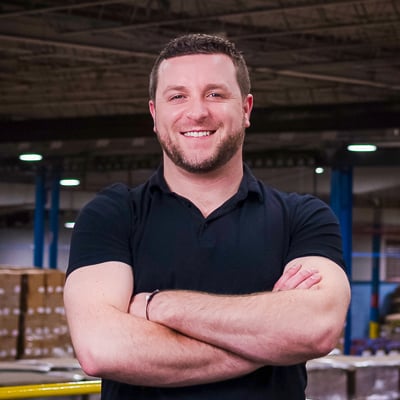 Top 6 Food Industry Product Packaging Things You Need to Know
Packaging Materials | The Business of Packaging | Supply Chain Services/ Contract Packaging | Investment | Packaging Design | Food Packaging
As you probably already know, there are many factors that come into play when you are packaging food products, and we understand that generalizing food as a category really broadens the scope. With numerous types of foods, each with different regulations and guidelines that must be followed it can be an overwhelming topic. Which is why we're covering the top six 'need-to-know' topics that any type of food manufacturer should know for their product packaging.
1.

THE PRODUCT

Starting off with knowing your product should be obvious, but its integral to the success of your product in the retail market as well as to the success of your business as a whole. Start by asking yourself:

How well do you know the ingredients in your food products?

Are there known allergens in the ingredients?

Not only is it important to know if there are known allergens in the foods themselves, but have a full understanding of the allergens within your the facility where the food is processed and packaged. For example, if you manufacture products that contain nuts, dairy, or shellfish to name a few well-known allergens, it is important to have Good Manufacturing Practices and safety measures in place that keep these clear from other food products that are processed in the same facility.

The Food Safety Modernization Act (FSMA) is one of the most sweeping reforms to food and regulation laws in over 70 years, this is a great place to start for food safety. Be sure that the facility you process your food is compliant with the rules laid out to prevent contamination and damage to your brand. If you work with a co-packer or another service to package your goods, its important that you are aware of how they handle food safety as well. Determine how to properly clean your machinery and your production area between different food processing to meet the rules and regulations laid out by both the FDA and the USDA. It's important to follow these steps for your packaging materials as well, including the labeling for your packaged foods.

The other most important aspect of knowing your food product is working with a packaging professional who understands the requirements for food packaging so they can tailor the materials to your specific foods. Different items in the food industry require different barrier materials and will be more visually appealing when packaged with specific packaging films. Meats and produce will need a moisture barrier packaging film to prevent wet fingers, and antifog additives to prevent them from disappearing under a collection of moisture inside the package. They will be able to identify and help you find films that will extend shelf life as well.
2.

LABELING REQUIREMENTS

The importance of knowing your product ties in directly with how you label your product packaging.

Understanding the FDA regulations for food labeling requirements is an absolute must. Know what nutritional content for the ingredients in your food product, the serving size, expiration dates and the placement requirements for your package.

The FDA recently began updating the nutrition labeling guidelines for the first time in 20 years, and if your product is already on the market, it is in your best interest to plan on aligning your nutrition labeling with the updated rules soon. Make sure you are clear on what is required to be on your packaging and labeling before you go to market with new foods. If you aren't confident in compliance, finding a food labeling consultant is never a bad idea. Though the FDA has pushed back the new labeling requirement deadlines a few times already (and it looks like it may be doing so again), it is better to heir on the side of caution and be prepared.
3. TARGET MARKET
This is a big one; you must, and I repeat must, know your target market. Not sure? Begin with these tell tale questions:
Who wants your food?
What are they interested in most about the foods that you offer?
What are their interests outside of the food you offer?
By simply answering these you will be able to gain a better understanding of the audience you are looking to target so you can market your product with thoughtful packaging that speaks to them.
The weight of knowing your target market is so heavy because the way you go to market with your product will heavily determine its success on the shelf or online.
Check out some of the excellent packaging designs that these companies created to speak to their target market. From the certifications you choose to display, to the packaging material and its impact on the environment, the packaging of your product is your voice to the consumer. The way your packaging is designed can influence a consumer to purchase in many ways. Did you know that simply the color of your food packaging can influence a purchase? The ease of opening and re-using packaging can also make or break a purchase. Packaging design may not be your top priority, but it should not be at the bottom of your list by any means.
4. CAPABILITIES
You may have all the bases covered on paper to start the production of your food products, but can you handle them in-house when things get real?
If you have a knock-out food product but are working with a small facility, a lean labor force and packaging and processing manually, will you be able to handle a sudden increase in demand? What about getting a new product off the ground while managing your current products? If you simply don't have the means to handle the project in-house, you are not out of options. There are contract manufacturers and contract packagers available for full-time or even seasonal support for your entire production.
It's important to consider the increase in demand, seasonal promotions, and potential hold-backs in your own facility ahead of time and to find the support that you need before you hit a roadblock. You may even be able to reduce your overall costs by outsourcing some of your project with a co-packer.
5. RETAILER/DISTRIBUTOR RELATIONSHIPS
It's also important to build relationships with the retailers and distributors that will sell your product.
Trust is a major factor in relationship building here, so keep this in mind while you grow your business relationships. A big positive for many retailers and distributors is dependability. Think of your business as a partnership with your retailers and distributors rather than a 'customer or employee' relationship. Work together to grow together. Get a good understanding of their requirements and your options, including product placement, space, and delivery needs. If exclusivity is of interest to your brand, look into exclusive options with large retailers in your target market areas. Learn about their promotions and marketing activities and see if there is an opportunity to join in, and dont be shy to share your marketing ideas with them, either. This can encourage larger and more frequent orders, and build a stronger relationship.
At the end of the day the more you know, the more you can plan for success.
6. BUDGET
Knowing your budget ahead of time before planning and selecting your suppliers and means of production is a must!
It's not uncommon to find the perfect packaging for your product, have it designed just how you need, and then find out that the minimum requirement of the packaging manufacturer is way more than you expected, and more than you can commit too. Understand the costs of the total production and the means by which you will meet your needs, and then source the materials, labor, and other needs so you are not caught off guard!
When you find a suppliers who care about the success of your business and looks to understand your needs and your budget before they offer you a goldmine, you can avoid the complications of going over-budget too quickly.
Want a few more tips for packaging your products? Check out our Packaging Optimization Cheat Sheet Here!
About David Roberge
I am grateful for my 9 years as part of the outstanding Industrial Packaging team. I was able to hang out with some of the most knowledgeable folks in the packaging industry. I feel even luckier that I was able to share that knowledge with you. I love learning, hiking, and growing people and teams both personally and professionally, and helping companies grow better.