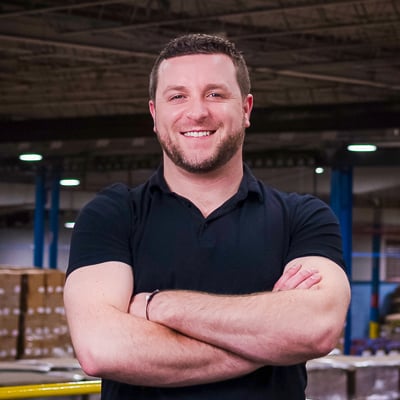 Plant Shutdown 101: Streamline Your Preventative Maintenance
Equipment | The Business of Packaging | Technical Service and Support | Plant Performance | Investment
No plant can streamline its operations and maximize its efficiency without preventative maintenance and planned shutdowns. Of course, you have to develop an optimal plan to make the most of a such a project.
Temporarily shutting down your plant or factory can be very expensive, whether it was planned for two years or due to an emergency. Yet studies have demonstrated that the short-term expenses are more than offset by improved plant efficiency and operations, including lower energy use and markedly fewer unexpected mechanical failures.
Proactive, regularly-scheduled work is a necessary component to keeping manufacturing and packaging equipment operating efficiently and extending their useful lives. These large-scale "spring cleanings" can have a great impact on your plant, but it's important to create a plan that suits your team and operational needs.
In this article, we outline how to incorporate preventative maintenance into a planned plant shutdown and how to design a plan that maximizes your efficiency.
Plant Shutdown: Protecting Against Common Risks with Preventative Maintenance
Before we begin, what is plant shutdown?
When talking about a plant shutdown, we are discussing a short term closing of a warehouse or brick and mortar location in order to implement preventative maintenance protocols. The objective of a plant shutdown is to inspect, clean, repair and maintain machinery.
Preventative maintenance is all about proactively identifying underlying issues before they become a disaster. It's not unlike how you care for your car – the routine oil changes, tire rotations, air filter and fan belt replacements. These are all forms of preventative maintenance. Checking and regularly changing key parts help you prevent needing to make expensive auto repairs in the future. It also promotes healthy operation of your vehicle for years to come.
In manufacturing, preventative maintenance protects against:
Unexpected downtime
Missed deadlines or commitments to customers
Workplace hazards and injuries
These risks can fray your relationships with your customers, retailers or personnel, lead to lawsuits and torch your bottom line. Should any of these risk become a reality, your unplanned maintenance will likely lead to greater overhead costs, extra expenses for parts and lost production.
Of course, you don't want to upset customers by conducting preventative maintenance when they need products under a tight timeline. The best time to perform maintenance is during a planned plant shutdown, often during the summer when most customers and employees travel. It's also allows your plant to rest during the hottest time of year.
Connect with Industrial Packaging to schedule your Preventative Maintenance on your time!
The Phases of Plant Shutdown Maintenance
Following a strategic and safe shutdown, maintenance and turnaround teams typically spend one to two weeks inspecting, testing and repairing equipment. They work around-the-clock to minimize your downtime and short-term financial losses. But even before the actual stoppage of operations and performing of maintenance work, a shutdown involves several phases of planning.
Scoping
The initial planning, scoping and organization of your maintenance work is the strategic foundation for your entire shutdown project. In this phase, it's important to review industry case studies and previously-conducted preventative maintenance projects learn how other plants improved their overall equipment effectiveness and reduced their costs. Typically, senior management defines the scope of the project and key performance indicators (KPIs) that will be used to measure performance. Then, they hand plans off to the plant shutdown management team.
Preparation
With the high-level plans in place, you then must develop several supplemental plans and ensure that each of them align with the overall scope of your maintenance project. These include:
Execution
With every detail in place, your shutdown management team will inspect your equipment, measure the scope changes and schedule and budget then against KPIs set in the scoping phase. Then they will take corrective actions when necessary. Post maintenance, the team will test all equipment, perform any final repairs or cleanings to ensure the entire plant is ready for startup. As project nears completion, they may also adjust the schedule and workforce needs according to your KPIs.
Startup/Turnover
Before resuming normal activity, operations personnel and any third party contractors will join the preventative maintenance team in conducting a final inspection. Each of these stakeholders should use a checklist of your creation to ensure the proper function of all of your machinery. When final inspection is complete, the maintenance team will breakdown and/or remove equipment used during the project and hand over operations to your team. Your operations team can then start your equipment and ramp up to normal operation levels.
Evaluation
Finally, conduct a post-shutdown meeting to review the process and assess the performance of each element you updated during the shutdown. You will also audit your KPIs to gauge the overall success of your project. Prepare a final report that summarizes your successes and issues, detailing every phase of the project. This will help you improve your process for future preventative maintenance..
Should You Perform Preventive Maintenance In-House or Outsource?
Some factory management chooses to conduct preventive maintenance in-house because it's often more cost-effective and affords them greater control over the planning and execution of the project. You do know your equipment and process inside and out, which makes the planning phase of a shutdown easier for you than a contractor. But most plants are best-served hiring a contractor.
Outsourced vendors have extensive experience in plant shutdowns and preventative maintenance programs across many industries. They're able to offer a new perspective on your plant's operations and help your team plan for future part replacements. They also tend to have access to maintenance management systems that your internal team does not.
Having compiled information from many other preventive maintenance projects, these contractors can leverage database analysis software to predict necessary repairs, order parts, and make key changes to your maintenance schedule. And they're often better equipped to find items that your regular technicians may have trouble finding. Simply put: Outsourced preventative maintenance teams can provide more value to your business.
Start Planning Your Annual Preventative Maintenance and Shutdown
If you're planning to hire an experienced contractor, be sure to plan ahead. The summer is a time when volume is low for many manufacturers. It's a good time for most plants to evaluate their equipment, materials and inventory. That means many shutdowns are planned for the same weeks of summer – vendors' schedules will fill up quickly.
The more time you can give an outsourced vendor, the greater likelihood they can help you conduct your preventative maintenance. With an expert team and proper planning, you can make an instrumental investment in your plant efficiency. In the long run, you'll save millions of dollars on energy consumption, unplanned repairs and lost customers.
How do you know when you're packaging machinery is ready to kick the curb or it can stick around for the long haul? Take our quiz and determine whether to repair, refurb, or buy new:
About David Roberge
I am grateful for my 9 years as part of the outstanding Industrial Packaging team. I was able to hang out with some of the most knowledgeable folks in the packaging industry. I feel even luckier that I was able to share that knowledge with you. I love learning, hiking, and growing people and teams both personally and professionally, and helping companies grow better.