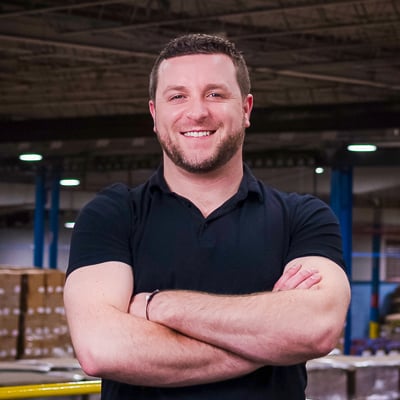 Smart Packaging: Printable Electronics & Smart Sensors Changing The Packaging World
Packaging Materials | The Business of Packaging | Plant Performance | Investment | Packaging Design | Shipping Protection | Food Packaging | Packaging Psychology | Fulfillment | Warehousing
In an increasingly connected world, there are few areas that the internet hasn't gotten its megabytes into.
The rise of data sharing is only on track to continue, with the Internet of Things (IoT) growing in scope and significance.
In keeping with this rising trend, smart packaging (also known as intelligent packaging) is becoming the new standard in the manufacturing space.
Think of it as an upgrade — like watches and televisions, adding "smart" elements to packaging can vastly improve the consumer's (and manufacturer's) experience, with infinite opportunities to take advantage of the technology.
Read on to learn all about the possibilities of smart packaging, and how it's being utilized by manufacturers.
So what is smart packaging? Like smartphones, smart watches, and smart televisions, smart packaging refers to inanimate objects connected to the internet.
Essentially, smart packaging is material that contains microchips, sensors, or other technology that allows it to share data.
Is your packaging design process the best it can be?
Boost your bottom line with our free Packaging Optimization Cheat Sheet!
Smart packaging includes everything from external packaging designed to engage the consumer to internal packaging components that can sense temperature and manage quality control.
This isn't just a futuristic concept. It's already here — from QR codes to augmented reality (AR) experiences, smart packaging is popping up everywhere.
Smart Packaging: What Are the Options?
The foundation of smart packaging is Printed Electronics (PE).. (not to be confused with the other PE, polyethylene). Essentially, PE involves printing conductive circuits on packaging substrates, and it's what makes the technology possible.
PE primarily uses traditional printing methods — screen printing, flexography, gravure, offset lithography, inkjet, etc. — but instead of traditional ink, it deposits electrically functional electronic or optical inks onto the material.
The possibilities for utilizing PE in packaging are almost endless, from labels that offer exclusive content and information for customers to bags that assess produce freshness.
The Many Facets of Smart Packaging
Smart packaging comes in many guises, from the more common QR codes on product labels to the burgeoning field of inductive intelligence.
Smart packaging includes the following components and applications:
Smart Sensors. Sensors are designed to monitor conditions, but smart sensors can pass that data along in real time. When combined with PE, these sensors can detect anything from heat to humidity to light.
According to Allied Market Research, the entire smart sensor market is expected to project a value of $60 billion by the year 2022.
These sensors are particularly applicable for delicate items — like food and medications — that require specific environmental conditions to ensure viability.
Smart sensors can monitor moisture, temperature and oxygen, as well as indicate chemical changes during transport.

Near-field Communication (NFC). NFC allows two transmitters to communicate with each other across a short distance. By holding a smart device next to the label/transmitter (on a product), the device can accept the information provided.
NFC is low cost and can easily be printed on packaging. With just a smartphone, consumers can access information like promotional offers, recipes, videos/games — and beyond.
Augmented Reality (AR). Essentially, augmented reality (AR) utilizes technology to superimpose virtual information on to the world that a user or consumer sees.
By adding AR elements to packaging, brands can share factual information, nutrition stats, art/images or video, company contact information, trivia, or various other immersive experiences.
AR is also surprisingly simple to implement. Any label can be slightly altered to automatically direct a consumer to a chosen piece of content.
Best of all, because AR is virtual, once the QR code is in place the content itself can be altered or changed in real time — without the need for editing the packaging material.
Inductive Intelligence. As one of the newer and lesser known aspects of the smart packaging landscape, Inductive Intelligence is an exciting development.
The eponymous company is forging ahead in this space. The start-up has created a square, coaster-sized appliance that plugs into a power source. Using radio-frequency identification (RFID), the device will identify and "talk" with whatever is placed on top — and act accordingly.
So if it's a smartphone, the device will recognize it and enter charge mode. But if it's an Inductive Intelligence food package, for example, the device will heat the edible item to the appropriate temperature.
The company is expected to offer this technology as a tool for other brands, so major companies can sell this technology along with their products — all while collecting user information about customers.
While smart packaging can be unnecessary for certain applications (particularly since it remains a new technology) there are many examples of companies who are already adopting it in an effective and engaging way. Here are a few:
● Bombay Sapphire. The gin purveyor has been experimenting with this technology for several years already, having released its first PE label more than five years ago. Most recently, the gin purveyor teamed up with the Shazam app to create an augmented reality experience. Buyers could scan the bottleneck tag to view a special AR visual and watch exclusive video content featuring Bombay recipes.
● iOlive. The Italian olive oil industry is utilizing NFC to fight back against false claims of quality. The industry has been plagued by companies claiming its products are "extra virgin" when they're actually inferior. So, iOlive was created — an app that uses NFC technology to catalogue authentic products and protects consumers from fraud.
● PARC by Xerox. Launched by Xerox, PARC offers smart sensor packaging that integrates this technology into normal, affordable packages for mailing. PARC's PE packaging transmits data about whether the package was tampered with along the route, what conditions it passed through, and who interacted with it. This is particularly applicable with medications and other sensitive goods that require specific conditions.
Our Predictions for Smart Packaging: 2019 and Beyond
Smart packaging is no longer conceptual — it's actively in practice, and many brands are benefiting from the different ways this technology can build loyalty, enhance consumer engagement, monitor quality, and more.
As time goes on, smart packaging and the IoT are only going to become more prevalent in the manufacturing space.
Here are some key predictions for smart packaging throughout 2019 and beyond:
Smart packaging is poised to grow to more than $48 billion. According to Packaging Digest, more than 10 million fast-moving consumer goods (FMCG) will be interacted with through 2019, and the global market for smart packaging is expected to reach a volume of over $48 billion in 2024.That gives brands the opportunity to connect directly with consumers and shift the experience. Advertising will fundamentally change, and consumer interaction with products will allow companies insight into who is buying their products — and what they want, need, and think.


Consumers will expect more experiential retail. For customers, it's no longer enough to browse shelves and buy items — they're increasingly expecting more from their brands of choice. Sephora, for example, has experimented with combining traditional stock with mobile apps and activities. Its "New Sephora Experience" features a Beauty Hub with digital apps to test products, shoppable connected terminals, and a table offering beauty tutorials.
Smart packaging will reduce food waste. Consumers are becoming more aware of the problem of food waste — some 40% of food ends up in landfills in the U.S. alone. But smart packaging features like freshness indicators, time-temperature indicators, and modified atmosphere packaging (MAP) may be able to double the shelf life of perishable products and drastically cut back on how much food gets thrown away or spoiled.
While still new, smart packaging is clearly the wave of the future — following in the footsteps of an increasingly connected society.
The possibilities to capitalize off of these new technologies in the packaging space are vast.
The sky's the limit when it comes to maximizing user experience and helping consumers choose your products over all other options!
Download our Packaging Optimization Cheat Sheet to ensure your company is making the most of your materials.
About David Roberge
I am grateful for my 9 years as part of the outstanding Industrial Packaging team. I was able to hang out with some of the most knowledgeable folks in the packaging industry. I feel even luckier that I was able to share that knowledge with you. I love learning, hiking, and growing people and teams both personally and professionally, and helping companies grow better.