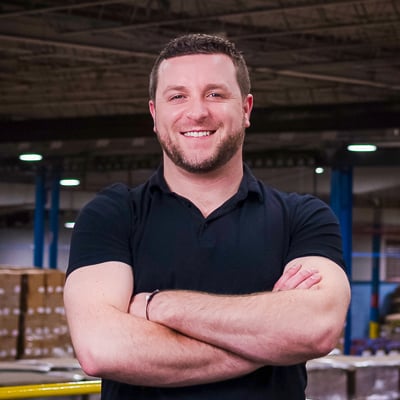 5 Benefits of Flexible Packaging and Flexible Films
Packaging Materials | Environment | The Business of Packaging | Packaging Design | Food Packaging
The use of flexible packaging and flexible films is growing across almost every industry, as manufacturers of consumer goods discover the innovation's valuable advantages. Flexibility in a packaging solution, in and of itself, is reason to consider the option. But there's even more benefit to glean from flexible packaging film. From customization and versatility to cost savings and consumer appeal, it's difficult to find a reason not to employ this form of packaging.
Still wondering exactly how you can profit from integrating flexible packaging into your packaging process? Here are five tangible reasons why it's is a worthy choice.
---
Your Free Packaging Design Cheat Sheet
Get 5 actionable tips to start optimizing your packaging for efficiency.
---
1. Flexible Packaging Film is Customizable
Flexible film is touted for its ability to be customized based on the specifics of the product being packaged. Regardless of shape, size or visual needs, this solution gives you the flexibility to tailor your packaging according to your unique specs and market objectives. This is a real competitive advantage.
To protect and secure products for retail and shipping environments, there are three main types of films: polyvinyl chloride, polyolefin and polyethylene. Each one features different capabilities and characteristics that make them suitable for specific applications, or they can be combined to create multilayer films with distinct barrier properties for better protection or longer shelf life. Flexible film can also add a form of tamper-resistance to packaged goods if necessary.
The customization element extends to visual properties as well, including clarity, glossiness, and printability. It allows you to really showcase your product and brand in an eye-catching way. Some formulations of shrink film are ideal for packaging meats or frozen foods, as they enforce barriers to reduce fog or moisture-vapor transmission. You have the ability to print high-quality graphics in an array of colors and designs to wrap your product in creativity and style or to include important information right on the package.


2. Flexible Packaging is Versatile
Versatility in a packaging solution is key. With the variety of options in flexible packaging, you can create a package that stands up, hangs from a peg display or sits on a shelf. In other words, the packaging works for the product rather than the other way around.
Flexible packaging films have been designed with numerous product requirements and realities in mind. There are options that prioritize durability and resistance to tearing, safe distribution and storage, freshness and food safety, and protection from environmental elements like temperature, light, moisture, and gas. Flexible film helps to increase the shelf life of perishable items and can conceal the smells of the packaging's contents.


Stand-up pouches are developed using flexible film and have become a popular option for food products, especially those with high-liquid contents. These pouches are both durable and versatile, protecting the product from environmental and physical hazards encountered in the stages of transport and storage.


3. Flexible Packaging Film Minimizes Production Costs
Because flexible film can be tailored to the specific size of your product, there's no need to use more materials than absolutely necessary. It can conform to your goods and render a higher product-to-package ratio, which has the potential to reduce your manufacturing costs. Dynamic utilization of flexible packaging films helps to simplify your packaging systems, eliminating the cost of labeling or capping, for example.
With the use of high-quality films, you can often phase out the need – and corresponding cost – for added packaging elements like corrugated trays. Plus, the expense of implementing flexible packaging film, from materials to production costs, is significantly lower than that of plastic or glass containers. Since flexible packaging is lightweight, it's more affordable to ship domestically and internationally.While it may seem strange, adding more layers to your flexible packaging design can help improve production costs and functionality, as doing so allows for more precise control of the layers and fewer limitations. This minimizes the need for complex engineering.
With new technologies becoming available all the time, you can further cut packaging costs by down-gauging or selecting a film with a lower width. If you create significant film waste on your packaging line, its worth testing a smaller width to see if this can be reduced. If you work with a packaging specialist to conduct a film audit for your packaging line, you'll really be able to see what cost-reduction options are available to you.
4. Flexible Packaging Film Promotes Reusability and Convenience
Flexible packaging can be designed to include features like zip locks, spouts, and seals that can be resealed after opening. As consumers increasingly seek options that deliver greater convenience, this benefit supports the opportunity to attract more sales. It further advances market appeal to customers who take an interest in finding new uses from what they already have in their homes.
5. Flexible Packaging Film is Environmentally Friendly
As sustainability becomes more important for Consumer Packaged Goods (CPG) businesses of all sizes, it's critical to adopt packaging materials that meet sustainability standards. One of the greatest upsides of polyolefin and polyethylene films is that they are recyclable. There are efforts being made to create a compostable, biodegradable alternative to plastics that last as long, but there are few options available as of today. In addition, polyolefin film is an FDA-approved food-safe material and does not release harmful vapors during the heat-sealing process.
Flexible packaging film requires less energy to manufacture and transport, and it generates smaller quantities of greenhouse gases on its way to market. The recyclability, sustainability, and waste-reduction associated with flexible film options can boost product appeal for consumers who prefer buying from brands and companies that take steps to reduce their environmental impact and ecological footprint.
Finally, the waste-to-energy trend, or WTE, is becoming a more viable end-of-life option for flexible packaging materials. Technological advancements have overcome issues associated with harmful incineration emissions, which makes it more viable for companies to turn waste into electricity, synthetic gas, fuels, and recycled materials. Doing so can help reduce air emissions, landfill loads and energy usage.


There's no denying the value inherent in flexible packaging film. The aforementioned benefits have propelled this packaging option to the forefront of the CPG industry. The only question left to answer is: What are you waiting for?
Looking for ways to make your packaging design process more efficient? Download your free cheat sheet to access actionable tips for optimizing your packaging process.
About David Roberge
I am grateful for my 9 years as part of the outstanding Industrial Packaging team. I was able to hang out with some of the most knowledgeable folks in the packaging industry. I feel even luckier that I was able to share that knowledge with you. I love learning, hiking, and growing people and teams both personally and professionally, and helping companies grow better.