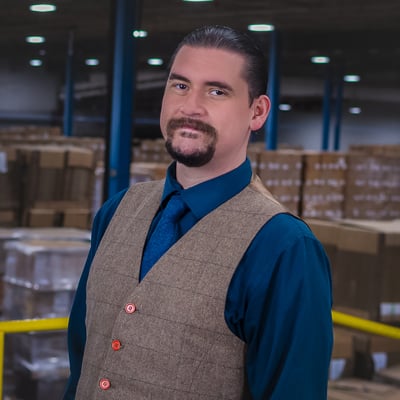 An Exploration Of Pallet Wrap
Pallet wrap is one of the most common packaging materials in the world. Suppose you have a business that packages physical products, and you transport these items by truck. In that case, chances are you are using pallet wrap.
From small businesses up to Fortune 100 companies, you can find pallet wrap in various warehouses, from massive distribution centers to smaller 10,000 square foot buildings.
But what exactly is pallet wrap? How does it work? And, is pallet wrap the correct packaging material for securing, containing, and safely transporting your products?
In this article, we will define what pallet wrap is, explain some typical applications for this dynamic packaging film and provide other insights about this packaging material.
After reading this article, you can decide if pallet wrap is the appropriate packaging material to secure, contain and transport your palleted products.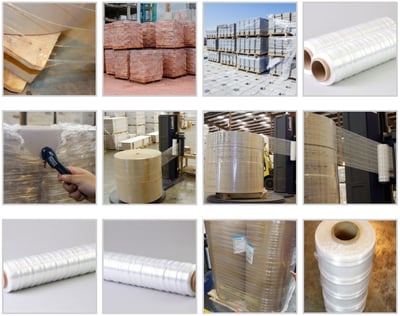 What Is Pallet Wrap?
Pallet wrap (also known as stretch wrap, stretch film, or stretch wrap film) is a highly elastic packaging film made from various plastic formulations. Pallet wrap tightly and safely secures and contains stacks of palleted products for transportation and storage.
The most common formulations of pallet wrap include LDPE (low-density polyethylene), LLDPE (linear low-density polyethylene), and HDPE (high-density polyethylene).
What Is Pallet Wrap Used For?
In addition to securing and containing your palleted products for transportation and storage, pallet wrap is also used to ensure the proper load containment of said pallets.
What Is Pallet Wrap Load Containment?
Load containment allows a wrapped pallet of products to be tightly held in place, ensuring that the load arrives at the destination safely. To get the required load containment, you will need an understanding of the types of loads and related containment factors.
Who Uses Pallet Wrap?
A better question may be, who does not use pallet wrap? Suppose a business has a warehouse and is shipping physical products to customers or distribution centers. In that case, there is a very high probability that they are using pallet wrap to secure and contain their palleted products.
Businesses that use pallet wrap to secure and contain their palleted products include food manufacturers, consumer goods manufacturers, electronics manufacturers, supermarkets, department stores, and countless other companies, retail institutions, and B2Bs.
Are There Any Alternative Materials To Pallet Wrap For The Same Applications?
Some people use strapping in place of pallet wrap to secure and contain their palleted loads and more oversized unpalleted products.
Strapping is thin bands of packaging material used for similar applications to pallet wrap. Strapping is used to contain palleted products tightly.
The most common types of strapping are polyester strapping, polypropylene strapping, and steel strapping. Products shipped via railroad are almost always legally bound to use steel strapping for their containment and securing exclusively.
Some companies use both stretch film, and strapping to secure and contain their palleted products as some loads are so heavy, oddly shaped, or boasting pointed edges that extra load containment is required.
What Is The Strongest Pallet Wrap In The World?
There are many different brands of pallet wrap currently available. Some are excellent products, and some are not so much. Multiple companies are selling high-quality pallet wrap today.
But, only one pallet wrap can truthfully declare that it is the strongest pallet wrap in the world. And that pallet wrap is the one and only Steelflex Titanium by alliance plastics.
Alliance plastics is one of the most excellent manufacturers of pallet wrap in the world. They make and sell a wide variety of pallet wraps, including some of the most earth-friendly stretch films on the planet.
But the single most impressive pallet wrap made by Alliance Plastics is, in our opinion, the one and only Steelflex Titanium.
Thanks to Steelflex Titanium's power bands which run through the film like a river of raw power, this pallet wrap is so strong that it can replace the use of strapping and traditional pallet wrap for ultra-heavy loads.
This results in time, labor, and cost savings that you can only get from this spectacular pallet wrap. If you are interested in learning more about this fantastic stretch film, check out the podcast below, in which our Digital Marketing Specialist interviews Ron Grubbs Jr., Owner and President of Alliance Plastics!
Can You Recycle Pallet Wrap?
The short answer is yes. But the ease of recyclability depends on the film formulation you have. LLDPE is the easiest type of pallet wrap to recycle.
Before you toss your LLDPE pallet wrap in a single-stream recycling bin, you will want to contact your recycling company to ask if they have the proper infrastructure to recycle this material, as many single-stream and municipal recycling centers do not.
However, suppose your local recycling center does not recycle this material. In that case, there is still hope for your pallet wrap recycling dreams.
Various third-party pallet wrap recycling companies will collect properly sorted and baled used and waste pallet wrap. And, if you have enough volume of film, many of these recyclers will pay you for the used and waste film...
Each pallet wrap recycling company will have different minimums of properly collected and balled wrap to qualify your business for a pick-up and a paycheck.
You will want to speak directly with your pallet wrap recycling vendor to determine those minimums.
Are There Any Sustainable Pallet Wrap Options Currently Available?
That is a hard yes. Currently, there are at least three fantastic options for earth-friendly pallet wraps that you can easily source today.
Thanks to modern technological advances in pallet wrap manufacturing, companies now have access to sustainable pallet wrap options, including recyclable pallet wrap, PIR (post-industrial recycled) pallet wrap, and, perhaps most excitingly, biodegradable pallet wrap.
Each of these types of earth-friendly pallet wraps offers a sustainable packaging film that can meet the needs of companies regardless of where they are on their journey to becoming more sustainable.
How Much Does Pallet Wrap Cost?
You can easily find the cost of pallet wrap on the web. However, most prices you find on the web are standardized prices per roll and pallet or a spectrum of pricing based on volume.
The key word here is volume. Depending on the volume of pallet wrap you buy, the price for the material may increase or decrease.
Generally speaking, the higher the volume of pallet wrap you buy, the lower the cost. Now, you could research pricing from dozens of pallet wrap sellers and crunch numbers until you have a close to exact price for each vendor.
But that takes a lot of time and work. And if I had to guess, you probably don't have the free time to tackle these calculations as you need to focus on the core responsibilities of your job.
Fortunately for you, there is an effortless way to get exact pricing for the volume of pallet wrap that you are looking to purchase for your business.
All you have to do is speak with a packaging specialist from your chosen vendor, and they will be able to provide you with exact pricing for the volume of pallet wrap you wish to purchase.
It is a best practice to get pricing from at least 3 or 4 vendors and choose the vendor with the price and quality of product and service that best meets your needs.
Where Can You Buy Pallet Wrap?
You can buy pallet wrap from several different places. These include packaging distributors, packaging manufacturers, big box stores (such as Home Depot or Lowes), and online retailers such as Amazon or Alibaba.
From a B2B standpoint, buying from a packaging distributor or manufacturer is usually the best decision, as B2B orders are often too large for purchasing from retail establishments like Home Depot.
As for whether a packaging distributor or packaging manufacturer is right for your business, that depends on your wants and needs.
Packaging manufacturers are usually the most knowledgeable about their brand of packaging materials. If you know the brand of pallet wrap you want to buy, buying from a manufacturer may be a good idea.
Note: Not all packaging manufacturers will sell directly to the customer. Suppose your packaging machinery manufacturer does not sell directly to you. In that case, you will have to buy their products from a vendor within their network of trusted packaging distributors.
On the other hand, if you are not sure which brand of wrap is best for your needs and budget, you will want to consider working with a distributor, as they are usually brand agnostic.
This means that they sell multiple different brands of packaging material. Rather than trying to sell you on one brand, they will analyze your needs and help you to select the best wrap for your specific requirements and budgetary concerns.
However, if you are only looking to buy one or two rolls of pallet wrap, both box stores and online retailers are a good choice, and will often have the best price for such low volumes.
Are You Interested In Buying Pallet Wrap?
After reading this article, you should have pretty much everything you need to decide if pallet wrap is the best packaging material for securing and containing your palleted products for transportation and storage.
Do you have more questions about pallet wrap that have not been answered in this article? Are you interested in getting pricing for pallet wrap?
Either way, the next step in your journey, should you need either of the items above, would be to speak with a packaging specialist.
They will be able to answer any additional questions you may have about pallet wrap and provide you with precise pricing for the volume of wrap you are interested in purchasing.
About Nathan Dube
As the Digital Marketing Specialist at Industrial Packaging, I am honored to create content for such a phenomenal company and work with one of the greatest teams in the Packaging Industry. Whether creating a video, writing blog posts or generating other pieces of content and multimedia, I am always excited to help educate and inspire our prospects and clients to reach their highest potential in regards to their packaging processes and needs.