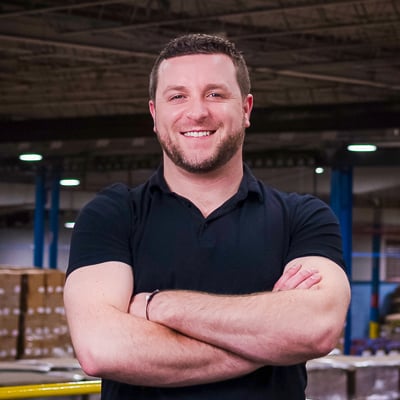 Why You Can't Afford To Ignore Shrink Packaging This Year
Packaging Materials | Environment | The Business of Packaging | Investment | Packaging Design | Food Packaging | Packaging Psychology
The advantages of shrink packaging for consumer goods are plentiful, and utilizing shrink to package your products in 2018 should be a serious consideration for brands looking to improve shelf appeal and reduce costs. Here are some of the reasons that shrink shouldn't be ignored this year:
Premium Shrink Films for All Applications
Shrink film is beyond versatile! No matter the industry or product, shrink packaging can be utilized to improve shelf life, product appeal and protection throughout a product's lifecycle.
Fresh and frozen foods and beverages benefit from extended shelf life and retail-ready product appeal. By utilizing different formulations and additives you can reduce moisture transmission and fogging that foods like meats and fresh produce can create. You gain added versatility in how you package your products while keeping them fresh and safe from shipment to shelf.
Software, electronics, board games, sporting goods and printed publications all benefit from a beautified finished good that looks great on the shelf and stays protected during transport.
Kitted hardware also benefits from the tamper-proofing of shrink. Often times a non-shrink wrapped product that is easily accessed will have pieces taken from it while on the shelf. A shrink protected product will make items like this much more difficult to steal from, and provide visible evidence when the seal is broken.
If you are bundling your products, shrink film can reduce the need for additional packaging like cardboard trays thanks to its strong sealing capability and tensile strength properties. You can utilize a durable shrink film to bundle multiple products of different shapes and sizes together for seasonal sales and promotions, gaining more product line visibility and increased consumer appeal.
Multi-packs are great for fast-moving consumer goods like single-serve foods and beverages. No need to tray heavier items like water bottles or canned goods, either! With the right film, your products will be able to withstand rough handling, be it on its way to the shelf or while being depleted at home.
Printable and Tamper Evident Shrink Sleeve Labeling
Once your product moves through your packaging machinery and leaves your facility and enters the retail space, it faces many challenges, product tampering being a major issue. Shrink sleeves are a great method of protection from theft and tampering thanks to their strength and durability and ease of application.
Tamper-evident shrink sleeves also keep products sealed securely. Products including pills and pharmaceuticals require a form of tamper evidence to deter tampering. A shrink sleeve can provide an easy way to protect while also making the products easily accessible once purchased with the implementation of a perforated strip.
They can also reduce the need for additional labeling and production costs thanks to their versatile print-ability. Coupled with the ability to purchase in smaller quantities you can make personalization a focus for your brand, allowing you to change graphics more frequently to create a more intimate product experience for your target market.
Shrink sleeves are great at combating condensation and labeling issues for beverages. The ability to incorporate light-barriers for sensitive products make a shrink sleeve a huge benefit for product manufacturers by increasing shelf-life.
Utilize shrink bands to bundle and protect while also utilizing high-quality, high-impact graphics to make your product stand out on the shelf and provide any information for branding and required labeling.
---
Do you want to learn more about protective shrink film and how you can utilize and implement it in your packaging? Check out our free eGuide here!
---
Protect Products from Moisture, Dirt, and Other Contaminants
The environments your product encounters during its lifecycle will often vary drastically, and there are many ways it can become a victim of damage that aren't directly related to theft. Whether it be the rain or a spill on the shelf or in the warehouse, shrink films can keep your product clear of any damage! Dusty shelves, dirty facilities or distribution centers are also no match for a shrink packaged product. A great package that is fully sealed will keep its contents safe in virtually any environment.
With the proper understanding of what your product may encounter on its journeys, you can work with your supplier to determine the proper gauge of film for durability and any additives or different formulations will be best for your product to mitigate damage from chemicals or other contaminants.
Reduce Product Footprint and Environmental Impact
Shrink packaging can open up a world of savings for your brand. With the focus on sustainability becoming more and more prominent with consumers and big-box retailers it's integral for product manufacturers in any industry to incorporate corporate responsibility into their packaging designs.
Shrink films in any format offer a positive environmental impact in several ways, starting with reduced packaging overall. The durability of shrink makes the need for additional packaging unnecessary, which reduces your productions impact on the environment.
Additionally, you can find a drastic reduction in your product footprint with a change in packaging design that incorporates flexible packaging when compared to cardboard trays and other more rigid packaging options. Rather than utilizing more space with a bulkier package, a shrink packaged good will reduce a product footprint to that of the product itself.
Polyolefin film is also 100% recyclable, which offers an opportunity to capitalize on your brands environmental responsibility on-package. If you are utilizing a fully recyclable package, make sure the customer can easily see this! Your brand reputation will benefit from your focus on sustainability and create an opportunity for increased brand loyalty.
Add Gloss and Sparkle For Added Retail Appeal
A package that shines on the shelf is more apt to be noticed and purchased than one that doesn't. Shrink packaging provides an opportunity for your product to catch the eye of the consumer and increases the perceived value of the item thanks to its glossy exterior packaging. A high-quality, high-gloss film will make your product ready for presentation no matter what it is. Shrink packaging can make your graphics stand out more prominently and newer films can provide excellent optical properties to enhance your product appearance.
Learn more about shrink film and how your brand can benefit from a shift in packaging with our free eGuide to Shrink Film!
About David Roberge
I am grateful for my 9 years as part of the outstanding Industrial Packaging team. I was able to hang out with some of the most knowledgeable folks in the packaging industry. I feel even luckier that I was able to share that knowledge with you. I love learning, hiking, and growing people and teams both personally and professionally, and helping companies grow better.